Sarah breaks down in front of Jason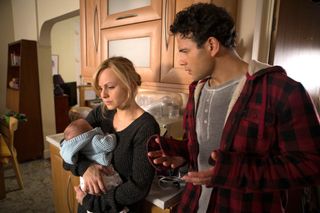 (Image credit: Joseph Scanlon)
Phelan's annoyed when Jason agrees to take a look at Gail's leaky tap, pointing out he should be concentrating on bigger jobs. As Jason fixes Gail's tap, Sarah comes into the annexe and breaks down in front of him.
Nick apologises to Carla for his outburst, putting it down to stress. Leaving Nick to look after Harry, Kylie and David take Sarah to the salon insisting she could do with a bit of pampering. But when Sarah and Kylie arrive home they find Harry screaming and Nick unable to cope. When Sarah suggests to Nick she could move in with him, Nick refuses and as Harry cries in his cot, Sarah sits alone, frightened.
Kate demands to know why Caz's being so secretive over her accident. Caz is defensive and the pair row before kissing and making up.
Billy's appalled to find Lee begging money from Steve and makes out he's a troublemaker from the homeless shelter. When Sean books a surprise holiday in Ibiza, Billy tells him it might be difficult to get the time off work. Yasmeen asks Phelan to measure up the back garden for an orangery.
Get the latest updates, reviews and unmissable series to watch and more!
Thank you for signing up to Whattowatch. You will receive a verification email shortly.
There was a problem. Please refresh the page and try again.