Sienna's behaviour rattles Maxine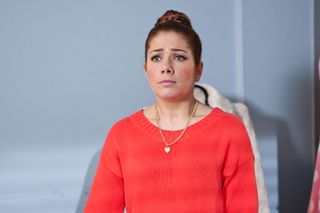 As a suspicious Nancy wonders what Darren is hiding from her, DS Thorpe arrives to tell Sienna, Nico and Maxine that they're closing the case on Patrick's disappearance following Maxine's request to declare Patrick officially dead. Sienna suggests holding a memorial for Patrick in Jubilee Gardens by the City Wall, much to Maxine's horror. Later, a call comes from Patrick's solicitor, who reveals that everything has been left to Maxine. Maxine considers splitting the money with Sienna and Nico – but then Sienna's venom changes her mind.
Nathan shows Myra the sexy lingerie he's bought for Rachel but, watching from the camper van, Diego thinks Nathan is giving the underwear to Myra. After telling Rachel about Myra and Nathan's 'affair', Diego starts to pack his things to leave, until Myra reassures him she's not cheating. Later, it's Tango night at The Dog and Nathan tries to make it up to Rachel. He thinks he's lost her until she surprises him wearing the sexy underwear. Seems the excited pair are looking forward to going travelling together.
Also, as Jade is told by a doctor she has Stage 3 non-Hodgkins Lymphoma, Lisa wants to be there for her but can't. Jade lies to Alfie that she doesn't have cancer and, after persuading him to skip school, they both go to the City Wall and drink wine but Jade throws up. Zack arrives and tells Alfie about Jade's diagnosis. At the Lovedays', Zack is a shoulder to cry on for Lisa and they end up kissing!
Get the latest updates, reviews and unmissable series to watch and more!
Thank you for signing up to Whattowatch. You will receive a verification email shortly.
There was a problem. Please refresh the page and try again.