Teenage kicks: Gabby and Jacob get drunk and frisky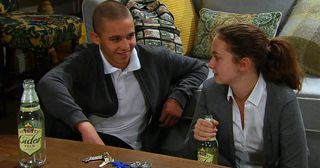 One thing leads to another as Gabby and Jacob drink stolen booze and get passionate in Emmerdale
Having got hold of some booze, teens Gabby and Jacob are underage drinking and playing a game of 'Never Have I Ever'. After both pretending they have lost their virginity already, the pair kiss when Jacob admits he fancies his friend. But trouble soon strikes when Laurel finds them…
Clearly having a terrible day, Laurel has another crisis on her hands when Ashley reveals Angelica has gone missing while he was meant to be looking after her! It turns out the little girl had found a very good hiding place during a game of hide and seek! It's crisis averted for the couple but, knowing she should never have left her dementia-sufferer husband at home alone with the kids, Laurel realises it can never happen again.
At the doctor's, nurse Emma tells Lawrence he's unable to take medicine for impotence and offers him counselling for his sex problems instead. But Lawrence, who is determined to have a sex life with his wife and to prove he's not gay, goes online to find the drugs.
Get the latest updates, reviews and unmissable series to watch and more!
Thank you for signing up to Whattowatch. You will receive a verification email shortly.
There was a problem. Please refresh the page and try again.