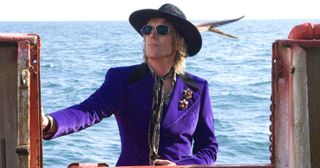 (Image credit: Photo Alex Bailey)
Tom Sturridge does well as a 1960s teen who climbs aboard ship to live with his godfather Bill Nighy, who runs a pirate station from a boat in the North Sea
Tom Sturridge does well as a 1960s teen who climbs aboard ship to live with his godfather Bill Nighy, who runs a pirate station from a boat in the North Sea. Philip Seymour Hoffman, Rhys Ifans, Chris O'Dowd and Nick Frost have a high old time as the station's motley crew of DJs, who teach the lad the ways of the world, and Kenneth Branagh is funny as the government minister who is plotting to silence the station. Writer-director Richard Curtis' bittersweet comedy is a great subject for a movie and he gets shiploads of hearty laughs from it. The cast is appealing, good-natured and warmly humorous and the 1960s music hits, carefully cued in by the DJs, rock.
Thank you for signing up to Whattowatch. You will receive a verification email shortly.
There was a problem. Please refresh the page and try again.