The Platts discover Bethany's betrayal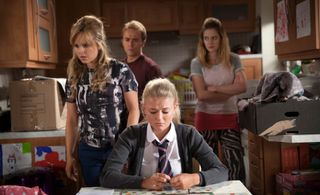 Max lies on the ground as Callum skulks away. But Bethany can bury her guilt no longer and finally admits to lying for Callum. Under fire from her family, Bethany blurts out that Callum drugged Sarah and threatened to harm her unless she gave him an alibi. Bethany goes to the police station to retract her statement, but Callum is still hassling Kylie and David for money in the Bistro.
Jason takes Eva to No 11 to catch up and it's clear they both still have strong feelings for each other. Eva laments their broken engagement, but when she innocently calls him a softie, Jason turns hostile leaving her baffled.
Andrea's delighted when Lloyd suggests they move to Jersey. When Lloyd broaches the subject of dissolving their partnership, Steve crabbily tells him to put it in writing. When Lloyd reveals they leave next week, Michelle decides to throw a surprise leaving party in the pub.
Andy spots Steph laughing with Jamie in the Bistro. Luke agrees to race his car but makes Jamie promise to keep it a secret. Cathy hatches a secret plot to take Roy to a steam train exhibition on his birthday.
Get the latest updates, reviews and unmissable series to watch and more!
Thank you for signing up to Whattowatch. You will receive a verification email shortly.
There was a problem. Please refresh the page and try again.