Transformers: Dark of the Moon - C4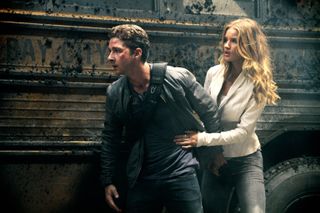 (Image credit: Photo Robert Zuckerman)
Shia LaBeouf's Sam Witwicky is plunged into another titanic robot war in this fan-pleasing third Transformers movie. 3/5 stars
With director Michael Bay again at the helm, this movie is everything you'd expect - and more. There are bigger explosions, more spectacular special effects - and a new girlfriend for Sam, in the shape of Rosie Huntington-Whiteley.
The plot follows much the same path as the earlier films, with Earth's fate hanging in the balance as the good Autobots and evil Decepticons slug it out, here reducing most of Chicago to rubble.
It's no doubt overlong, overloud and overly dumb, but the awesome, eye-popping, jaw-dropping action makes up for any deficiencies in the plot department and John Malkovich, Frances McDormand and John Turturro provide classy supporting turns.
Get the latest updates, reviews and unmissable series to watch and more!
Thank you for signing up to Whattowatch. You will receive a verification email shortly.
There was a problem. Please refresh the page and try again.