Trevor's bomb explodes in the council flat!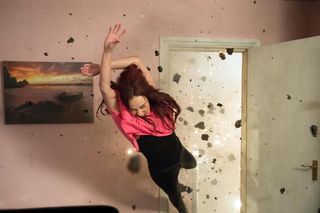 Sinead goes to The Loft to see Trevor and spots him in the office stashing a bag full of cash. When he's gone, she swipes the bag, unaware that she's carrying a bomb into Ste's home. Meanwhile, Ste and Doug's leaving party is in full swing at the council flat. However, the celebrations are ripped apart when Sinead opens the bag and it explodes, tearing through the flat.
Ash looks at her fiancé with disgust and confronts him with the locket. He tries to explain himself, but slowly Ash starts to piece together the puzzle of Will's weird behaviour since Texas died. Will blocks the front door so Ash can't leave, but she manages to lock herself in the bathroom. He breaks down the door and grabs Ash as she tries to escape.
Dodger is confused when he walks in on Will kneeling over a frightened Ash. He doesn't have time to find out what's happening before the explosion from the council flat downstairs erupts through the Kane's home and sends them all flying.
Carmel, John Paul, Theresa, Kathleen-Angel, Mercedes, Nana, Phoebe and baby Matthew make their way across the village to Mercedes' party. Cindy and Lindsey join the birthday girl and Mercedes paints on a happy face.
Get the latest updates, reviews and unmissable series to watch and more!
Thank you for signing up to Whattowatch. You will receive a verification email shortly.
There was a problem. Please refresh the page and try again.