What has Neeta been up to?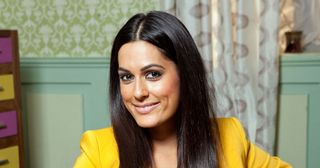 After last night's party, has Mac's missus got something to feel guilty about?
It's the morning after last night's party and Neeta creeps guiltily back into The Dog – but what did she do? When Ellie shows her mum a photo she took of Neeta with Jesse, Marnie sends the photo of Neeta and Jesse to Mac, who storms over to Grace's flat and beats Jesse up. Neeta's horrified to see Mac standing over Jesse's lifeless body!
Meanwhile, when Sienna and Maxine go out, Warren frantically searches the flat but Sienna's too smart for him – she tells him he'll get his package back if he helps her get Maxine put behind bars. Warren starts digging – but will Maxine tell him about Patrick?
Also, Tony and Diane set up Harry and Ste so they're alone together at the flat but, when Harry kisses Ste, he rushes off. Later, Ste considers taking a bag of Crystal Meth.
Get the latest updates, reviews and unmissable series to watch and more!
Thank you for signing up to Whattowatch. You will receive a verification email shortly.
There was a problem. Please refresh the page and try again.