Will Bianca have an abortion?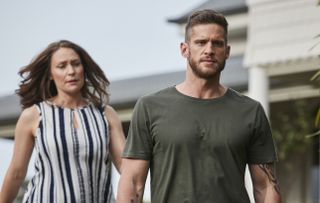 (Image credit: Jeremy Greive)
Does Heath want another baby?
Heath and Bianca are at odds over her pregnancy. Heath is desperate for his wife to keep the baby, but Bianca is undecided. When alone, Bianca visits Tori and discusses the possibility of an abortion. The next day, Heath finds Bianca's abortion kit and is livid.
Meanwhile, Bianca visits Zac, who comforts her over the baby and Heath wanting to be a father again. Will Zac's good deed land him in hot water, however, when Heath spots his and Bianca's warm embrace?
Zac's problems don't just begin and end with Bianca and Heath. When Zac and Leah disagree with how to motivate Hunter, Zac loses his temper and make a spiteful comment. Will Leah forgive him?
Finally, Phoebe and Justin's relationship is put to the test, as Justin proves to be the patient from hell…
Tobi Oredein is an award-winning women's lifestyle journalist, media entrepreneur and international public speaker based in London, who focuses on race, feminism, beauty politics & popular culture. Tobi has been commissioned by Buzzfeed, British Glamour, Grazia, Elle UK, Fader, The Debrief, The Independent, The Pool, Stylist, Vice and others. She has also interviewed public figures such as Ryan Coogler, Ava Duvernay and Sir Trevor McDonald.
Thank you for signing up to Whattowatch. You will receive a verification email shortly.
There was a problem. Please refresh the page and try again.