Will Cameron let Ste drown?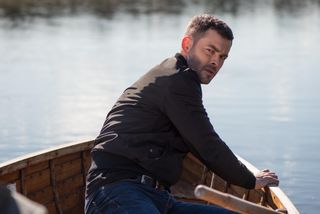 At the lake, Cameron watches as Ste struggles to stay on the surface – but when Leela turns up, Cameron dives into the water to save Ste. Leela revives Ste with CPR but Ste knows what Cameron tried to do. Ste needs to go to hospital but he decides to go to the police station instead. Leela chases after him and shows him a CCTV image of Lockie at a cash machine with Cameron on the day he disappeared, which backs up what Cameron told Ben yesterday. Harry tells Ste he needs to be smarter than Cameron if he wants to catch him. Ste 'apologises' to Cameron and there's a flashback of Cameron at the lake again, dumping a body-shaped bundle into the water – it's Lockie!
Meanwhile, Myra refuses to believe she's done anything wrong when Mrs St Claire confronts her about John Paul - but she's left with food for thought when Mrs St Claire questions why John Paul confided in her instead of his own mother. Later, John Paul tries to apologise to Scott, who just walks away. When John Paul accuses her of sabotaging his relationships, Myra promises to step back – but John Paul questions her when she then refers to Mrs St Claire as Iain…
At the hospital, Jack tells Alfie that Jade's had an allergic reaction, so Alfie confesses about the pills. When Alfie collapses, a furious Mac says he can't see Jade anymore and Jack agrees.
As Scott explains what Marnie and James have been doing, Tony orders them to leave and Harry comforts his dad who's a broken man. Mac has a go at Marnie and her icy facade starts to thaw. Later, James promises Marnie that he'll get her The Hutch… and Mac!
Get the latest updates, reviews and unmissable series to watch and more!
Thank you for signing up to Whattowatch. You will receive a verification email shortly.
There was a problem. Please refresh the page and try again.