Will Leah put a stop to Billie and VJ's romance?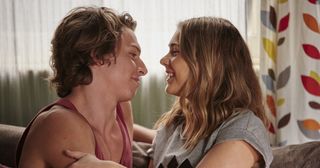 (Image credit: Jeremy Greive)
Will Billie listen to Leah's warnings about VJ?
Leah tells VJ to end things with Billie and find someone his own age. Next she warns Billie to stay away from her son, but after speaking to Billie and Roo, Leah has a change of heart and gives the couple her blessing.
Andy's staring at a picture of Hannah, when Evelyn barges in and attacks him for killing Hannah and Oscar. Josh finally pulls her away and Andy leaves. The next day, Josh visits Andy who explains he feels he should be punished.
Tank and Skye are at odds with her decision to reveal Andy played a part in the explosion. When John finds out that Skye is still hanging round with Tank, he warns her to stay away.
Evelyn and Zac are livid when they find out that Leah knew Andy was responsible for the explosion, but the family put aside their differences to watch Chris unveil Hannah's plaque at the hospital.
Roo is left distraught when the insurance company tells her that she is responsible for the explosion as she organised the event and didn't carry out the proper safety checks.
Get the latest updates, reviews and unmissable series to watch and more!
Thank you for signing up to Whattowatch. You will receive a verification email shortly.
There was a problem. Please refresh the page and try again.