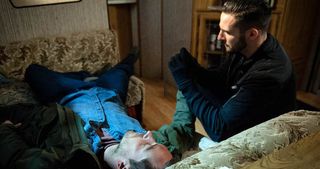 *Hour-long episode*
It's all coming together for Ross. He's got his family fooled into thinking he's worried about depressed Pete's well-being when really he couldn't give a monkeys. Well, worse than that, he wants Pete dead! Suggesting the Bartons go to the pub, Ross gets Pete plastered. Later, when Pete passes out in his caravan, Ross appears. He's got a suicide note written, he's got a gun and he's going to shoot his brother! But, as he goes to pull the trigger and get rid of his brother once and for all, Ross hears a noise outside. It's Debbie, who's upset about Sarah. Unable to ignore her tears, Ross shelves his plan and embraces her.
Later, however, Pete wakes up and finding Ross's rucksack and the gun, realises his brother was going to kill him…
Ross isn't the only Barton with a secret revenge plan. Emma's got it in for Debbie. But how far will the nurse go to hit her where it hurts?
Elsewhere, when Johnny's rushed off for urgent treatment, Adam wonders whether to take up Ashley's suggestion of a baptism for the baby.
Get the latest updates, reviews and unmissable series to watch and more!
Thank you for signing up to Whattowatch. You will receive a verification email shortly.
There was a problem. Please refresh the page and try again.