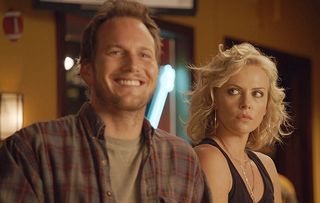 (Image credit: Courtesy of Paramount Pictures)
Charlize Theron enjoys her best role in years as a former high-school prom queen in this deliciously sour black comedy
Charlize Theron enjoys her best role in years as a former high-school prom queen in this deliciously sour black comedy.
Now a teen-fiction writer, Theron returns to her drab Minnesota hometown in a bid to win back her old boyfriend (Patrick Wilson), despite the fact that he is now a happily married father of a newborn baby.
As she pursues her delusional scheme, Theron finds an unlikely confidant in another ex-classmate, bitter school outcast Patton Oswalt, whose teenage memories are far from rosy.
Reuniting Juno writer Diablo Cody and director Jason Reitman, this dark, sharp comedy cuts to the quick of Theron's self-absorbed, deluded character and the sight of her seduction plans unravelling is painful, sad - and very very funny.
Thank you for signing up to Whattowatch. You will receive a verification email shortly.
There was a problem. Please refresh the page and try again.