Meet the cast of That '90s Show: who's who in the Netflix series
There are plenty of new and familiar faces in That '90s Show.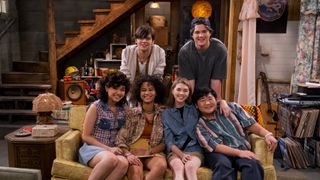 (Image credit: PATRICK WYMORE/NETFLIX)
It's time to get to know a new generation of Point Pleasant kids as That '90s Show plays on Netflix. While these teenagers are hanging out in the basement trying to figure out the world, there are also some familiar faces returning for the sequel series.
Let's meet the cast of That '90s Show.
That '90s Show cast: new characters
Callie Haverda as Leia Forman
Callie Haverda plays Leia Forman, the daughter of Eric and Donna. She's very smart but also socially awkward. That's not a surprise considering who her parents are. While visiting Red and Kitty she makes some friends, which isn't easy for her, and decides to spend the summer in Point Pleasant.
Haverda is a relative newcomer, with her previous credits including just one recent TV series, Shut Eye, and the movie The Lost Husband.
Ashley Aufderheide as Gwen
One of the first kids that Leia meets in Point Pleasant is Gwen, who lives next door in Donna's old house with her mom and half-brother. Gwen is one of the cool edgy girls. Leia is a little intimidated by Gwen but is thrilled to be friends with her. Gwen embodies the '90s counterculture aesthetic and listens to alternative music, reads zines and is more socially aware than some of the other kids.
Ashley Aufderheide previously appeared in the movies Infinitely Polar Bear and Going in Style, as well as the TV series Emergence.
Mace Coronel as Jay
Jay is the son of another OG couple, as he's Jackie and Kelso's son. They're still living in Point Pleasant and happy to see their son taking Kelso's place in the Forman's basement and befriending Leia.
Mace Coronel is a screen veteran even though he's just 18. He was a lead in the Nickelodeon series Nicky, Ricky, Dicky & Dawn, where he played Dickey. He also had a recurring role on the daytime soap The Bold and the Beautiful. Coronel also plays Jake in Netflix's Colin in Black & White.
Reyn Doi as Ozzie
Reyn Doi is Ozzi, a happy-go-lucky character who has already come to terms with his sexuality, even if others haven't. He has a strong base of support among his friends though, including new friend Leia.
Reyn is another veteran of movies and TV. He's appeared in episodes of Kidding, S.W.A.T. and Mythic Quest. He played Yoyo in Barb & Star Go to Vista Del Mar and also had a recurring part in Nickelodeon's Side Hustle.
Sam Morelos as Nikki
Nikki is played by Sam Morelos. She's the nerdy but ambitious type of girl who has known she wants to be a doctor since she was little and is more focused on college than on high school. But she does make time for her friends and her boyfriend, Nate, who seems like a strange match for her on the surface. But Nate balances out her tendency to get too focused on the future, so they're actually a well matched couple.
That '90s Show is the first significant role that Sam Morelos has, with her only other credits a few short films.
Maxwell Acee Donovan as Nate
Nate is a typical easy going football loving Wisconsin high school kid. He is Gwen's half-brother and lives next door to the Formans with Gwen and their mom Sherri. He is the opposite of his activist riot grrl half-sister, but they get along pretty well.
Maxwell Acee Donovan hasn't had a ton of TV experience, but he did appear in both seasons of the Disney series Gabby Duran & the Unsittables.
Andrea Anders as Sherri
Another new cast addition is Sherri, Red and Kitty's next-door neighbor who is played by Andrea Anders. Sherri is Gwen and Nate's mom. She's a flighty and struggling single mom who relies on Kitty and Red. She's a love interest for Fez, who is returning from the original show.
If Anders looks familiar it's because you've probably seen her in a lot of movies, like the musical film Spirited, and in shows like Ted Lasso, Young Sheldon, The Good Fight and Cruel Summer.
That '90s Show cast: returning characters
Debra Jo Rupp as Kitty Forman
Debra Jo Rupp returns as Kitty, the long-suffering mom and wife of Red who is thrilled to have her grandchild joining them for the summer. Kitty is the kind of laid-back grandmother that every kid wants to have. Even though she doesn't always show it, Kitty is happy to feel needed again with the kids hanging out in her basement.
Kitty is arguably Rupp's most famous role, though she has also been seen in Friends and WandaVision.
Kurtwood Smith as Red Forman
Red, played by Kurtwood Smith, may not be the kind of dad everyone wanted but he's the dad that many people can relate to. Red was able to relax for a few years, but now his basement is once again filled with kids and he's definitely going to have some feelings about that, which he will express, loudly.
Smith has a number of other roles he is remembered for, including RoboCop, 24 and The Dropout.
Other That '90s Show cast members
Also returning in limited capacity from the original That '70s Show are:
Eric Forman played by Topher Grace
Kelso played by Ashton Kutcher
Jackie played by Mila Kunis
Donna played Laura Prepon
Fez played by Wilmer Valderrama
All episodes of That '90s Show are now streaming on Netflix.
Get the latest updates, reviews and unmissable series to watch and more!
Sonya has been writing professionally for more than a decade and has degrees in New Media and Philosophy. Her work has appeared in a diverse array of sites including ReGen, The Washington Post, Culturess, Undead Walking and Final Girl. As a lifelong nerd she loves sci-fi, fantasy and horror TV and movies, as well as cultural documentaries. She is particularly interested in representation of marginalized groups in nerd culture and writes reviews and analysis with an intersectional POV. Some of her favorite shows include Game of Thrones, The Walking Dead, The Handmaid's Tale and The Sandman.
Thank you for signing up to Whattowatch. You will receive a verification email shortly.
There was a problem. Please refresh the page and try again.