The Good Doctor season 6 episode 12 recap: finding that work-life balance
The Good Doctor characters are faced with intimate problems in this week's episode.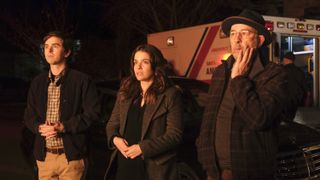 (Image credit: ABC/Jeff Weddell)
NOTE: this post contains spoilers for The Good Doctor season 6 episode 12, "365 Degrees."
After Dr. Reznick's (Fiona Gubelman) first IVF procedure was unsuccessful, she wants to restart the process immediately, regardless of side effects. But things get complicated after Dr. Andrews (Hill Harper) offers her the career opportunity of a lifetime. With how much time the new job will take, she worries about being able to balance that while being a single mom.
She reaches out to Dr. Park (Will Yun Lee), who advises her that being physically present for your child is the best thing, underscoring that her present job is perfect for motherhood. Dr. Lim (Christina Chang) advises her to decide what brings her the most joy and focus on that.
With all this in mind, Dr. Reznick declines the position. But Dr. Andrews shares how his mother was very career-focused but he could always count on her when he needed to. He emphasized being a good mother doesn't look one way, and he believes Dr. Reznick can be both a good mother and have a high-powered career. This convinces Dr. Reznick to ultimately accepts the offer.
Another move in the hospital sees Dr. Lim taking over direct supervision of the surgical residents after having to fire Danica (Savannah Welch) and place the other three residents on probation. Dr. Lim works alongside Daniel (Brandon Larracuente) and Asher (Noah Galvin) on a patient who has advanced heart failure. She recommends a high risk procedure. Asher is excited at first but gets increasingly worried about the risk as he does more research. He challenges Dr. Lim, hoping for support from Daniel.
Dr. Lim is adamant her choice is the best while admitting the risks. Asher doesn't think she's adequately weighing the risks to the patient's life or even presenting the risks appropriately to the patient. Dr. Lim goes ahead with the procedure and complications develop during surgery. Asher provides a solution that ends up saving the patient's life on the table and extends his time while he waits for a transplant.
Shaun (Freddie Highmore) and Jordan (Bria Henderson) work on a case involving a sexually active 13-year-old girl, with her trip to the hospital a result of that. Jordan is opposed to the patient being sexually active so young and wants to involve child protective services. Shaun disagrees because, technically, it's not illegal — her mother is aware and her boyfriend is the same age. Jordan's opposition is based on her moral commitment to abstinence, while Sean insists that they advise based on medicine and the law. The patient develops complications during surgery and flat lines. She survives and Shaun advises avoiding sex for at least six months.
During a conversation with Lea (Paige Spara), Jordan confides about her decision to remain abstinent until marriage. Lea unintentionally pities her, underscoring Jordan's decision to keep her abstinence private. She maintains most people don't understand her decision.
Dr. Glassman (Richard Schiff) is forced to leave his house due to a termite infestation, so he ends up staying with Shaun and Lea. The arrangement works for a while, with Dr. Glassman being the ultimate guest and cooking meals. Lea notes how similar Dr. Glassman can be to Shaun in a domestic setting. However, the breaking point is Lea mistakenly joining Dr. Glassman in the shower after thinking it was Shaun.
In addition to the termites, the house needs to have its roof replaced, and everyone agrees that Dr. Glassman needs alternative living arrangements for the extended period he can't be in his house. Shaun and Lea ask why he doesn't sell the house since it requires so much work, but Dr. Glassman shares how the house holds his best memories of his family.
Unfortunately, the choice may no longer be his, as the episode ends with the house setting on fire due to faulty wiring. Dr. Glassman can only look on as his family home burns.
New episodes of The Good Doctor season 6 air Mondays on ABC, with episodes available on-demand on Hulu the next day. The show streams on Disney Plus for UK audiences.
Get the What to Watch Newsletter
The latest updates, reviews and unmissable series to watch and more!
Taayoo Murray is a New York City transplant who is a full-time boy mom, freelance writer, and teen goal-setting coach. She's also a published author of the interactive workbook, "Making Me Happen (opens in new tab)." She has been published in Health, Business Insider, HuffPost Wellness, Livestrong, Yahoo Life and others. When not working, Taayoo enjoys hanging with her three best friends and drinking white wine.