What is The Company You Keep based on?
Learn about the Korean TV show that The Company You Keep is based on.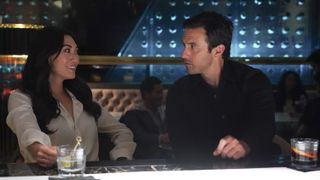 (Image credit: ABC/Eric McCandless)
ABC's new drama The Company You Keep revolves around highly skilled con-man Charlie Nicoletti and undercover CIA officer Emma Hill, whose personal lives are forever upended after a night of passion. Little do they know, but they're professional lives are set to intertwine, too.
The 10-episode long season stars Milo Ventimiglia (This Is Us, Gilmore Girls) as Charlie and Catherine Haena Kim (Ballers, FBI) as Emma. The Company You Keep cast also includes Sarah Wayne Callies (The Walking Dead), James Saito (Always Be My Maybe), Polly Draper (Thirtysomething), and William Fichtner (Prison Break).
But while The Company You Keep has been developed and written by Julia Cohen (Riverdale, A Million Little Things) and Phil Klemmer (Chuck, DC's Legends Of Tomorrow), the show's origins are actually from another source.
What is The Company You Keep based on? Take a look below to find out the answer.
What is The Company You Keep is based on?
The Company You Keep is based on the South Korean television series My Fellow Citizens. Composed of 36, 35-minute long episodes, which were released in April and May 2019, My Fellow Citizens starred Choi Si-won as Yang Jung-kook, a skilled fraudster whose entire family is made up of con artists. He begins to date police detective Kim Min-young, played by Lee Yoo-young.
Meanwhile, Kim Min-Jung plays Park Hoo-ja, who blames Yang for the recent death of her loan shark father. Instead of revenge, she wants him to run for a seat as a Congressman.
My Fellow Citizens is a critically acclaimed series in Korea. At the 12th Korea Drama Awards, Kim Min-young claimed the Best Actress prize, while Choi Si-Won picked up Best Actor at the KBS Drama Awards that same year.
Where to watch My Fellow Citizens
Those of you that want to check out episodes of My Fellow Citizens before or while The Company You Keep is airing are in luck, episodes are available to view in the US.
My Fellow Citizens is currently available to watch on Kocowa, a streaming website that airs Korean entertainment from the three main broadcast networks in the country: KBS, MBC, and SBS. Subscriptions are available at $6.99 a month or $69.99 a year. You can access Kocowa through Prime Video, The Roku Channel or Rakuten Viki.
What The Company You Keep is changing from My Fellow Citizen
While The Company You Keep is based on My Fellow Citizens, there looks to be some key differences.
The Company You Keep is poised to be more of a dramatic thriller that focuses on the Mr. and Mrs. Smith style romance of Charlie and Emma, whereas My Fellow Citizen leaned more into its comedy.
The new show also won't have a subplot where Charlie is blackmailed into going into politics to appease a loan-shark. Instead, in an interview with Entertainment Weekly (opens in new tab) back in December, Ventimiglia teased Charlie has to pay back a "debt [to] the Irish mob," after they caught him "conning them out of $10 million crypto."
Ventimiglia added that each episode will include a specific con. "What ABC was wanting was to have a con procedural with a lot of serialization story happening for the growth of the characters," adding that they are "neatly wrapped stories about cons that are happening with this through line of how the Nicolettis are now in debt to the Irish mob."
Ultimately, Ventimiglia believes The Company You Keep is made up of five different shows. There's the romance and deception from Charlie and Emma; Charlie's life as a con-man; Emma's as a CIA officer; then there's Charlie's family, which includes his father, played by Fichtner, struggling with the loss of his memory; as well as Emma's family, as her brother is running for Senate and her father is a former governor.
The Company You Keep premieres on ABC on Sunday, February 19. New episodes premiere on Sundays and then are available on-demand on Hulu.
Get the What to Watch Newsletter
The latest updates, reviews and unmissable series to watch and more!
Born and raised in England but now based in Philadelphia, Gregory Wakeman has written for the BBC, New York Times, The Guardian, GQ, and Yahoo Movies UK, all while defiantly trying to keep his accent.