Who is Robobunny in 'The Masked Singer' UK? Clues, theories...
By Grace Morris published
Who is Robobunny in 'The Masked Singer' UK? What celebrity could be hiding in this futuristic and bonkers costume?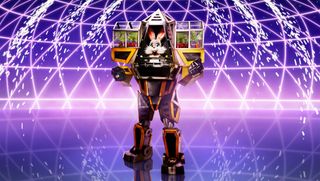 (Image credit: ITV)
Stepping straight out of the future to storm The Masked Singer UK stage is Robobunny! Now, this is a pretty amazing costume — it's not every day that you see a grey rabbit control a transformer-style robot with carrots on its shoulders!
Robobunny has been praised as being one of the best contestants yet, as well as having one of the most spectacular costumes. But, let's take a look at everyone's guesses so far...
Who is Robobunny in 'The Masked Singer' UK? Songs...
Week one saw Robobunny perform Saving All My Love For You by Whitney Houston.
Robobunny sang Shallow from A Star Is Born for week two.
Who is Robobunny in 'The Masked Singer' UK? Verbal clues…
This clue doesn't give much away for who could be donning this extreme costume, as it says: "Is it a robot? Is it a bunny? No! It's Robobunny."
If we focus our attention onto the robot part of the clue, it could indicate someone who has starred in shows to do with science or technology, for example, Craig Charles. Craig is known for his role as Dave Lister in the science fiction sitcom Red Dwarf and is also a host on The Gadget Show. He also did hosting duties on Robot Wars from series 2 to series 7, as well as Robot Wars Extreme- so it seems he knows a lot about gadgets and robots, but would that be enough for him to actually become one?
Angela Scanlon was also a presenter on Robot Wars, could she be the one to turn herself into this robot bunny hybrid costume?
Comedian Richard Ayoade - also rumored to be the next Doctor Who - has explored different technology formats over the years and is best known for his socially awkward IT technician character Maurice Moss in the hit Channel 4 sitcom The IT Crowd. He also starred in the TV series Gadget Man, where he showed viewers the world of new gadgets and technology.
Who is Robobunny in 'The Masked Singer' UK? Costume clues…
Looking at the costume, it appears similar to a transformer. Although comedian, actor and writer Stephen Merchant was never in any of the Transformers films (it would have been great to see that), there were rumours circulating that he would be cast in a supporting role for Transformers: The Last Knight, which sadly never happened. This may be far-fetched, but it would be a funny way to pay tribute to a part that could have been.
Who is Robobunny in 'The Masked Singer' UK? Show clues…
Robobunny started off their clue package in a menacingly deep robotic voice! "Salutations, humans. Allow me to introduce myself," but as Robobunny went on to explain who they were, they began to malfunction. "I am Ro-bo-bo-bo…bunny!" they then said in their normal voice coming from the bunny part of the costume.
"You thought it was a real tough guy, eh?" Robobunny quipped. The judges began to assume that it was an American who was male due to the voice, with Mo Gilligan suggesting that it "could be someone who's a hard man." But Rita Ora thought it sounded like a fake accent.
"Well that's just my shell," Robobunny continued, "I'm actually a real softy who's part of the machine." The judges started to feel conflicted as to whether Robobunny was a man or woman.
"Now, I'm not gonna rabbit on about hard exteriors…" we then saw Robobunny being sprayed with Peroxide, could this be a big hint? "But I will say that I'm here to control alt delete what you know about me. So buckle up because I came to play. Let's hop to it!"
The judges, as well as the viewers at home were well and truly stumped when Robobunny performed their rendition of Saving All My Love For You by Whitney Houston with two different voices! One seemed to be a deep male voice, meanwhile we were stunned to hear a different high pitched voice coming from the bunny, possibly from a woman? Does this mean that there could be two people in the costume?! Maybe a man and a woman?
After the judges made their guesses, Robobunny revealed a QR code on their back that host Joel Dommett scanned to unveil yet another clue. The clue hinted: "I might be made of metal but that doesn't stop me making a splash." Diver Tom Daley perhaps?
Week 2 show clues...
We welcomed back Robobunny to the competition for yet another remarkable performance. "In my first performance, my mettle was tested as the panel tried to get a laser focus on the person behind the Bunny. They hit me with their best shots. But they'll need to swing bigger to land a hit on this rabbit."
"Doing what I do, it can feel like everyone wants a piece of you, literally." Robobunny then walked past a police badge, cowboy boots and a Native American headdress. Looking at the clues, Davina pointed out that they "must be an actor."
"I'm talking "hair" today, gone tomorrow. So it's nice when I get the time to head back to base and enjoy some time on the ranch," they revealed. Next up we saw a construction hat and Mo was quick to realise that the clues were about the musical group, Village People. "Nothing makes me happier than standing on my deck, with nothing around me but a little bit of country," Robobunny continued.
Rita suggested that she thinks they could be a country singer, but Mo reckoned that they could be someone from a different country. "Now, I might be a small bunny in a big mechanical suit, but that doesn't mean I can't enjoy a good boogie. You're really wondering who I am right now, aren't you? Well, get in line." Davina then mentioned line dancing, before a poster was shown demonstrating how to do the "Line Dancing Dosey Doe."
"I'm taking to the stage again, so get ready, here we go. Five, six, seven, eight..."
As Robobunny took to the stage, Davina was certain that it was a man, whereas Jonathan said, "I think it's a man, let's hear the singing again tonight."
Robobunny's two lies and a truth were set to confuse us all as the first clue was revealed to be: "These metal shoes are made for more than moonwalking." The second one was: "I'm not one for revenge but I'll always get payback," and thirdly, "It was a knock out performance that launched my career." Which one could be the truth?
Who is Robobunny in 'The Masked Singer' UK? Theories…
The judges were blown away by the unexpected twist and Davina McCall was unsure whether Robobunny was a man or a woman, but she made a guess at Drake due to his song Controlla after focusing on the "control alt delete" part of the clue. She then decided to go with Dara O Briain due to his role on Robot Wars. Mo Gilligan guessed Vinnie Jones and Jonathan Ross went with Drake. Finally, Rita Ora went for Paddy McGuinness and Jonathan jokingly suggested that Jeremy Clarkson could be in the costume.
However, when the final clue was revealed, Rita changed her mind and guessed Elon Musk!
Meanwhile, many fans at home were quick to suggest that Robobunny was Richard Ayoade, with some even suggesting that it could be Westlife singer Mark Feehily.
Week 2 theories...
Jonathan was up first with his guessing expertise and he went for music legend Billy Ray Cyrus, while Rita went for The Script lead singer, Danny O'Donoghue. Mo decided to go for actor Richard Blackwood and Davina also suggested an actor— Kevin Bacon.
Fans are certain that Robobunny is Mark Feehily— could their identity finally be rumbled? Of course, not everyone will agree that Mark is behind the mask, there's even someone saying it's Craig David!
The new series of The Masked Singer continues on ITV — see our TV Guide for full listings.
Grace is a digital writer with WhatToWatch.com, where she writes series guides for must-watch shows and the latest TV news. She graduated from Anglia Ruskin University in 2020 with a degree in Writing and Film Studies, which only made her love for creative writing, film, and TV grow stronger.
Some of her favourite TV shows are Line of Duty, Fresh Meat, The Great British Bake Off, and Gogglebox. In her spare time, Grace likes to explore new places with her friends and family and, of course, watch and read about the latest films and TV series!
Get the latest updates, reviews and unmissable series to watch and more!
Thank you for signing up to Whattowatch. You will receive a verification email shortly.
There was a problem. Please refresh the page and try again.