Why Bling Empire: New York fans love Tina but aren't wild about Richard
As one star has found a fanbase, another has managed to turn viewers off.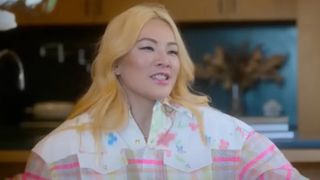 (Image credit: Netflix)
Because the world loves to see a little more "bling" every now and then, Netflix has been kind enough to expand the Bling Empire universe to include new spinoff Bling Empire: New York. While viewers of the original series have coronated Anna Shay as the Queen Bee of that show, when it comes to the group of "friends" in the Big Apple, that royal title has been assigned to Tina Leung. Despite Dorothy Wang being the anchor of the new franchise, her bestie Tina has managed to capture the heart of the show's fans.
On the flip side of things, just as the audience of the original has designated a person as the most problematic of the cast (Kane), Bling Empire: New York fans have also awarded someone that distinction in the series' premiere season. That happens to be Richard Chang.
Now audience members have their own reasons for loving Tina while developing a level of disdain for Richard's onscreen persona, and we decided to explore what those reasons are.
Beware, the following post contains spoilers.
Why do Bling Empire: New York fans love Tina Leung?
Instantly, when Tina Leung debuted on the series, viewers found themselves drawn to her quirky personality, unfiltered opinions and her ability to just be herself onscreen. She doesn't come off as someone trying to live beyond her means or impress her millionaire castmates, but rather as a person that is enjoying living in her own skin. Although we could continue to shower her with compliments, instead, we'll opt to get into why she's become such a favorite among fans.
Tina doesn't rely on family money
Unlike many of her peers in the Bling Empire world, Tina is not relying on a family fortune to fund her lifestyle. In the very first episode, she described that while her father used to be well-off and give her financial support, circumstances in his life changed which forced her to become financially independent in her early 20s. Since then, she made up her mind to build a career in fashion. Today, she is a top fashion influencer and is invited to some of the biggest runways across the globe.
Fans seem to really appreciate seeing someone earn their money and express concerns about having money to pay bills long-term if she makes mistakes in her career. That working component has made her quite relatable (similar to the relatability found with original Bling Empire cast member, Kevin Kreider).
Tina loves junk food
Often times in reality shows focused on fabulous lives, the cast members are seen eating expensive and elevated dishes. We're talking caviar, wagyu beef and entrees covered in gold flakes. However for Tina, her favorite things to eat are not high-end at all. In fact, Dorothy even mentions that Tina loves eating Spam (canned pork).
Furthermore, when she can't sleep at night her go-to food appears to be candy, and she's not opposed to sitting down with a cup of noodles. Oh, and one of her favorite meals is actually the orange chicken from Panda Express. That's quite the diet.
Tina's age is a shocker
This may be a bit more on the superficial side of things, but Bling Empire: New Yorker viewers are just taken aback by the fact that Tina is 40, yet looks to be in her mid-20s. They are quite a few people clamoring to know her beauty secrets.
Why do Bling Empire: New York fans not like Richard?
To be fair, we won't say Richard is the show's "villain." He isn't purposefully malicious, he isn't necessarily being messy and gossiping about people behind their backs and he isn't bullying other members of the cast. With that said, he's still managed to get on the wrong side of many show fans in the spinoff series' first season. Here's how.
Richard asked too much of Dorothy
When it came to Richard's charity event, he had very ambitious goals. He not only wanted to put on a grand event, but he also wanted to raise a great deal of money. However, in the process of putting the party together, he asked Dorothy if she knew celebrities who would be interested in hosting, requested that she invite her friends and also propositioned her about posting the event on her social media accounts. He additionally enlisted Dorothy and Tina in his auction to go on a double–date with the highest bidders. Dorothy was completely turned off by his list of favors feeling he was asking too much from her given where they were in their friendship. It appears fans were quick to take her side.
In Richard's defense, not everyone quite agreed with Dorothy on the issue.
Richard gets into a disagreement with Tina
Anytime a cast member gets into a spat with a fan favorite, the former person won't' come across well to the audience. Unfortunately, when Richard decided to confront Tina and Dorothy for skipping out on their appointment with his business, it pushed fans to take sides, and they weren't thrilled with Richard's argument.
While he tried to paint the picture that Tina and Dorothy were unkind for not showing up as he felt he was doing them a favor, the two women called him out for coming off as "transactional." They claimed he just wanted them to come to his company so they'd highlight the business on their social media accounts. When it boils down to it, they felt like he was being more of a salesman than a friend. #TeamTina let Richard know they weren't here for his perspective on the issue at hand.
By the way, nowhere was it shown in the series that Dorothy and Tina even agreed to venture to Richard's business in the first place.
Again, Richard hasn't done anything too egregious to where he can win over fans if there's a season 2 of the show. Only time will tell.
Bling Empire: New York season 1 is now streaming on Netflix.
Get the latest updates, reviews and unmissable series to watch and more!
Terrell Smith has a diverse writing background having penned material for a wide array of clients including the federal government and Bravo television personalities. When he's not writing as Terrell, he's writing under his pseudonym Tavion Scott, creating scripts for his audio drama podcasts. Terrell is a huge fan of great storytelling when it comes to television and film. Some of his favorite shows include The Crown, WandaVision, Abbot Elementary and Godfather of Harlem. And a fun fact is he's completely dialed into the TLC 90 Day Fiancé universe.
Thank you for signing up to Whattowatch. You will receive a verification email shortly.
There was a problem. Please refresh the page and try again.