Bling Empire's Kevin Kreider: his career, net worth and current girlfriend
What we know about the most relatable star of the Netflix hit show.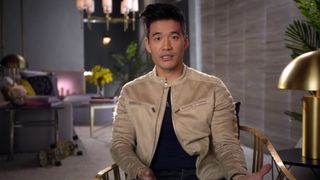 (Image credit: Netflix)
After three seasons of the reality show Bling Empire, much of Kevin Kreider's real-life persona remains a mystery to most viewers. We know he was born in South Korea, raised in Pennsylvania and had a failed attempt at a relationship with Kim Lee thanks to Kane. However, we do not know much about his career. Is he still modeling? This leads us to his estimated net worth. While we figured he's not an heir or heiress like most of the people on Bling Empire, he doesn't go into detail about his true fortune. Plus, has he finally found a girlfriend that's not his cast member?
Here's what we know about Kevin Kreider?
What is Kevin Kreider's career?
Starting with his career, Kevin fans will be happy to know that he's actually been cast in the upcoming movie Asian Persuasion. As reported in Variety, the film is being directed by three-time Tony-Award and Grammy-winning producer Jhett Tolentino and follows a chef trying to marry off his ex-wife as a way for him to stop paying alimony. Kevin is going to show his funny side as the movie is slated as a romantic comedy.
You may be surprised to learn that the film is one of several onscreen credits on Kevin's resume. Before Bling Empire, Kevin starred in the 2019 documentary The Ugly Model, was featured in the TV series Kat Loves LA and was in the TV mini-series Dating After College.
Kevin has also branched out and started the company Be More Matcha. The business claims to sell "the best matcha supplement for more natural energy."
Additionally, as shown in season 3, Kevin launched the non-alcoholic sparkling beverage brand SANS. The drink serves as an alternative for those who perhaps want to be social yet remain sober. You can read more about the product on the company's website.
By the way, it doesn't appear that he does as much modeling these days.
What is Kevin Kreider's net worth?
With his several gigs, there have been assumptions made about Kevin Kreider's net worth. There are currently rumors floating around that he's worth upwards of $10 million. Kevin himself exclusively debunked this myth in an interview with E News. While we couldn't find more accurate information in regards to his net worth, it seems unlikely a multi-millionaire would claim to have lived in an apartment with roommates and only paid $1,000 a month.
Who is Devon Diep?
What about Kevin's love life?
For those that were hoping for some rekindling between Kim and Kevin, we'd advise you not to hold your breath. The two are just not a fit, and Kim even told Kevin that he's not her type.
However, as shown in season 3, Kevin recently got back in touch with his former girlfriend Devon Diep. The two broke up years ago after he had issues with his sobriety and wasn't able to be in a relationship with her. He claimed Devon is the only woman he's thought about settling down with. After doing some canoodling in Europe, the two decided to give it another shot.
Trying to determine if the former lovers turned new couple is still together, we did some snooping and it appears that Kevin will be featured as her husband in Devon's upcoming music video for her song "Talk About." Looking to their Instagram accounts, Kevin posted a video of him hanging out with her and Christine on August 26.
Furthermore, looking at an IG post on Devon's page from September 30, Christine Chiu left a comment that certainly makes it seem likely that Kevin and Devon may still be exploring things romantically. Underneath the following video she stated, "I have never seen Kevin happier so thank you for coming back."
Bling Empire season 3 is now streaming on Netflix.
More Bling Empire stories
Get the What to Watch Newsletter
The latest updates, reviews and unmissable series to watch and more!
Terrell Smith has a diverse writing background having penned material for a wide array of clients including the federal government and Bravo television personalities. When he's not writing as Terrell, he's writing under his pseudonym Tavion Scott, creating scripts for his audio drama podcasts. Terrell is a huge fan of great storytelling when it comes to television and film. Some of his favorite shows include The Crown, WandaVision, Abbot Elementary and Godfather of Harlem. And a fun fact is he's completely dialed into the TLC 90 Day Fiancé universe.