10 Years Ago in the Soaps including Coronation Street: Week beginning December 1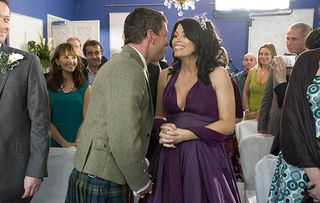 10 Years Ago in the Soaps - Remind yourself of all the soap drama happening in Coronation Street, EastEnders, Emmerdale and Hollyoaks 10 years ago this week!
Carla Connor tied the knot with Tony Gordon in Coronation Street, Jack Branning demanded a paternity test in EastEnders, Jasmine Thomas turned killer in Emmerdale, and Louise Summers discovered Warren Fox had been cheating in Hollyoaks - 10 years ago in the soaps!
Coronation Street - 10 Years Ago in the Soaps
It was the day of Tony Gordon (Gray O'Brien) and Carla Connor's (Alison King) wedding day and heartbroken widow Maria Connor (Samia Longchambon) steeled herself to get through the ceremony. Blushing bride Carla walked down the aisle to marry Tony but as the champagne flowed, Sally Webster (Sally Dynevor) got drunker and drunker. When Maria said how perfect Liam had been Sally couldn't hold her tongue any longer. She told Maria that Liam had been having an affair with Carla… and showed her footage on Rosie's phone of the pair kissing to prove it!
Steve McDonald (Simon Gregson) was too much of a coward to tell girlfriend Michelle Connor he had fallen out of love with her and in love with Becky Granger (Katherine Kelly). Instead he was doing his best to be a 'bad boyfriend' in the hope she would dump him! Becky, though, was fast running out of patience and told Steve she didn't just want to be his bit on the side…
EastEnders - 10 Years Ago in the Soaps
Roxy Slater (Rita Simons) was keeping a watchful eye on tiny daughter Amy, who was in the special care baby unit wired up to all sorts of paraphernalia. Her husband Sean tried to reassure Roxy, but things didn't look good. He popped out for five minutes and when Roxy heard a sound behind her, she assumed it was him back. It wasn't. It was Jack Branning and he shocked Roxy by demanding a paternity test!
Delusional Whitney Dean (Shona McGarty) was busy making plans for her new life in Spain with Tony King (Chris Coghill) blissfully unaware he had no plans to go anywhere with her. Now she'd turned 16 she was too old for the paedophile to be interested in - Whitney thought they were in love, Tony had just been using her. And he had already started grooming his next victim…
Emmerdale - 10 Years Ago in the Soaps
If you think that looks like a body they are heaving into the water, you're not wrong! Jasmine Thomas (Jenna Coleman) bashed bent cop Shane Doyle with a chair leg when he tried to rape her - and she didn't stop until he was dead. Debbie Dingle (Charley Webb) and Eli Dingle (Joseph Gilgun) were roped in to help dispose of the body. Would Jasmine get away with murder?
Paddy Kirk (Dominic Brunt) was horrified when he walked in and caught his best mate Marlon Dingle's wife Donna (Verity Rushworth) in the middle of a passionate kiss with her colleague - and Paddy's cousin - Ross Kirk (Samuel Anderson). Fuming, Paddy punched Ross then demanded an explanation. Donna tried to convince Paddy it was more than a fling and she would be breaking up with Marlon… Paddy trtied to convince her otherwise!
Hollyoaks - 10 Years Ago in the Soaps
Warren Fox had been getting away with his affair with Mandy Richardson, keeping it hidden from his fiancée Louise Summers - but not any longer. Mandy (Sarah Jayne Dunn) was tired of the subterfuge and confessed to Louise (Roxanne McKee) that she'd been sleeping with Warren for months. Louise was furious and slapped Mandy, who then proceeded to tell Louise a few home truths. It wasn't about to end well…
Cindy Cunningham (Stephanie Waring) never passed up the chance of a bit of flirting and Rhys Ashworth (Andrew Moss) was a willing victim. The two had been helping put up the Christmas decorations at The Dog and were soon having fun of another kind behind closed doors…
Get the What to Watch Newsletter
The latest updates, reviews and unmissable series to watch and more!