Will Ash and Tori Finally Give Romance A Chance?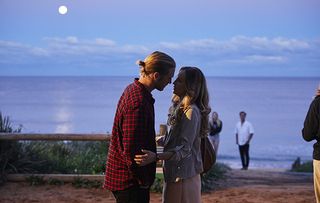 After months of stolen glances and wishful thinking, Ash and Tori finally kiss!
Like any soap romance is has been a long and tumultuous road for Ash and Tori, but with both parties now single, could this finally be the right time for the pair to take their friendship to the next level?
Well, Ash tries his best to convince Tori that his feelings for her are genuine, but his attempts backfire when she pushes him away during a kiss. Annoyed and ready to move on, Ash arranges a date with a beautiful single mother called Liz. Will Ash's new romance finally be what he needs to move on from Tori?
Ash finally takes his chance and kisses Tori, but will she respond?
Ash finally takes his chance and kisses Tori, but will she respond?
It's the morning after their kiss and things couldn't be more awkward between Ash and Tori
Annoyed from his run in with Tori, Ash storms off and bumps his pram into another baby stroller.
Single mum Liz is livid that Ash has bumped into her baby's pram. Is Ash about to have his second situation of the day?
Ash and Liz both check on their babies and luckily no one is hurt.
Now that things have calmed down, Ash decides to turn on the charm. Will he impress Liz?
Ash's charms work and Liz gives him a card with her number on!
Irene sees the encounter and introduces herself to Liz. She also gives Ash the seal of approval.
Is Tori starting to regret pushing Ash away after their kiss?
Ash isn't ready to give up on Tori and having a relationship with her...
It seems like Ash and Tori are finally a couple...
but then Tori pulls away from the kiss! Watch all the action in Home and Away unfold on Channel 5 from Monday 23rd October
Get the What to Watch Newsletter
The latest updates, reviews and unmissable series to watch and more!