How to stream Newsmax for free on your TV
By Phil Nickinson published
One of the hottest new 'news' channels is only available a couple of places. Here's how to watch it.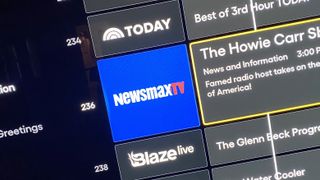 (Image credit: WhatToWatch.com)
Newsmax is a right-wing media outlet that grew in popularity in the wake of the 2020 election. Like OAN before it, it's become a favorite of those who believe Fox News plays things too straight and wavered in its undying loyalty for Donald Trump. Trump, of course, lost the 2020 presidential election but refused to accept that fact, and Newsmax quickly fell in line as a true believer. That continued up to and beyond the day Trump left office, and it undoubtedly will continue to bring the same sort of rhetoric into the Biden/Harris administration.
Newsmax also quickly jumped on the false idea that specific companies were responsible for voting machines changing the results (repeat — that never happened) but has since slowly walked back those claims after the specter of defamation lawsuits loomed large.
Not that any of that has slowed the rise of Newsmax. So much so that it's begun to beat Fox News in some specific demographics in some specific time slots.
So, then — how can you watch Newsmax on your TV? It's not part of the YouTube TV channels.
There's a scant few streaming services that carry Newsmax. Here's how to watch if you're into that sort of thing.
Watch Newsmax with a VPN
One of the best things about living in America is having the freedom to watch what you want to watch, when you want to watch it. That isn't true of everywhere else, though. And for that reason it's important to have a good VPN in your Democracy Toolkit.
A Virtual Private Network keeps your internet traffic free of limitations. It allows you to route things through American Servers and keep all your traffic American.
And that's the sort of thing you'll need to keep the News flowing when it's all said and done.
If you're looking to watch Newsmax but aren't in your usual Newsmax viewing area, a VPN might well be the way to jump-start things.
ExpressVPN is one of the easiest and affordable ways to watch what you want from anywhere you want to watch it. Plus it'll help keep your network traffic away from any prying eyes on public networks. Because the Deep State is everywhere!
Watch Newsmax on FuboTV
FuboTV is one of the smallest live streaming services in the United States, which really just means that it's a true patriot and hasn't yet been corrupted by the system of corporate greed. Or something like that.
It's also a great option for watching all the things you want to watch without being hassled by the name, and that includes Newsmax.
FuboTV's "Starter" plan lands at $64.99 a month. There's also FuboTV Elite, which adds on 44 more channels, additional cloud DVR, and lets you watch on more devices at once. So you can have Newsmax all the places.
Ain't America great?
Watch Newsmax on Sling TV
Sling TV is the best option for streaming Newsmax on your television. First you'll need either the Sling Orange or Sling Blue plan. They're $30 a month each, or $45 a month if you get them both.
Then you'll need the News add-on for either one of those packages. Newsmax is included in each.
The Sling Orange news add-on also gets you BBC World News, HLN, Weather Nation, Euronews, Science, News18, RT America, CGTN, and Law & Crime.
The Sling Blue news add-on also gets you Fox Business, CNBC, BBC World News, Law & Crime, Weather Nation, Science, Euronews, France 24 English, News18, NDTV 24x7, RT America, and CGTN.
Watch Newsmax for free on Roku
Newsmax on Roku is another option if you're looking to stream. (Roku also happens to be the No. 1 streaming platform in the United States.)
Getting the Newsmax Roku channel onto your Roku player or Roku TV is simple. Just head into the channel store on your Roku device and search for "Newsmax," and then install the channel.
Alternatively, you can go to the web page for the Newsmax channel here.
As for the best Roku for Newsmax? That's easy.
The best Roku for NEWSMAX
Roku Ultra isn't just the best Roku for streaming Newsmax — it's the best Roku real patriots can buy. Full stop.
It's the best way to get the straight dope in the highest resolution, with all the features you want, and none of the distracting bells and whistles that you don't. Plus it comes with a free set of premium earbuds for private listening via the Roku Voice Remote — because it's nobody else's business what comes into your head but yours.
Watch Newsmax for free with Pluto TV
Pluto TV is a free streaming service owned by ViacomCBS. (Yes, that's the same ViacomCBS that owns CBS, which is a network with actual news.) Pluto TV is free and supported by advertising that appears during shows.
So you can stream Newsmax that way without having to pay a dime. Which, frankly, is probably the way most people would prefer to stream Newsmax.
Pluto TV is available on all major hardware platforms, including Roku, Amazon Fire TV, Android TV, Apple TV, PlayStation, Xfinity, and Chromecast. It also has apps for Android and iPhones, dedicated apps for Mac and Windows, and you can watch on select smart TVs from Amazon Fire TV, Hisense, Roku, Samsung and Vizio. And, of course, you can stream Newsmax in a web browser.
Watch Newsmax on Amazon Fire TV
Newsmax also is available on Amazon Fire TV, which is the second most popular streaming platform in the United States, behind Roku.
To watch Newsmax on Amazon Fire TV, all you need to do is install the Newsmax TV app. You can get to it by searching for "Newsmax" on your Amazon Fire TV. That works by searching with your voice — literally, just say "Newsmax" out loud after pressing the microphone button on your remote.
Or you also can install the Newsmax app on Fire TV by going to the Amazon Appstore page for Newsmax and then clicking the "Deliver to" button on the top right.
The best Fire Stick for patriots!
Our favorite Amazon Fire TV device for true patriots is the Amazon Fire TV Stick 4K. It allows you to watch the revolution in full 4K resolution with Dolby Vision, and listen to it in its full Dolby Atmos glory.
The insurrection never looked or sounded so good!
Phil spent his 20s in the newsroom of the Pensacola (Fla.) News Journal, his 30s on the road for AndroidCentral.com and Mobile Nations and is the Dad part of Modern Dad.
Get the latest updates, reviews and unmissable series to watch and more!
Thank you for signing up to Whattowatch. You will receive a verification email shortly.
There was a problem. Please refresh the page and try again.