How to stream Newsmax for free on your TV
Newsmax is only available a couple of places. Here's how to watch it.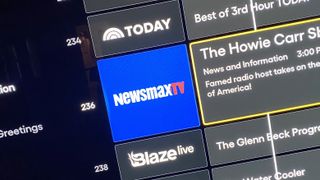 (Image credit: WhatToWatch.com)
Newsmax is a right-leaning media outlet, in the vain of Fox News and OAN. Founded in 2014, the network relies primarily on opinion-based talk shows, though also airs documentaries and covers the daily news (though it has faced issues regarding pushing election denial stories and has faced defamation lawsuits in the past.)
Newsmax isn't available everywhere, in fact, in January 2023 it was dropped from DirecTV for at least a little while as they renegotiate rights deals. If you're looking to watch Newsmax, here's what you need to know.
Watch Newsmax on FuboTV
FuboTV carries Newsmax as part of its main TV channel lineup. Subscribers can access it through anyone of FuboTV's plans, with the cheapest starting at $74.99 per month.
Watch Newsmax on Sling TV
Sling TV (opens in new tab) carries Newsmax as part of its News Extra package. Whether you sign up for Sling Blue or Sling Orange ($40 per month each, or $55 per month for a combined plan), you can add the News Extra package for an additional $6 per month.
The Sling Orange news add-on also gets you BBC World News, News Nation, HLN, Weather Nation, Science, News18, CGTN, and Law & Crime.
The Sling Blue news add-on also gets you Fox Business, CNBC, BBC World News, Law & Crime, Weather Nation, Science, News18, NDTV 24x7, and CGTN.
Watch Newsmax for free on Roku
Newsmax on Roku is another option if you're looking to stream.
Getting the Newsmax Roku channel onto your Roku player or Roku TV is simple. Just head into the channel store on your Roku device and search for "Newsmax," and then install the channel.
Alternatively, you can go to the web page for the Newsmax channel here (opens in new tab).
Watch Newsmax for free with Pluto TV
Pluto TV is a free streaming service owned by Paramount. Pluto TV is free and supported by advertising that appears during shows. So you can stream Newsmax that way without having to pay a dime.
Pluto TV is available on all major hardware platforms, including Roku, Amazon Fire TV, Android TV, Apple TV, PlayStation, Xfinity, and Chromecast. It also has apps for Android and iPhones, dedicated apps for Mac and Windows, and you can watch on select smart TVs from Amazon Fire TV, Hisense, Roku, Samsung and Vizio. And, of course, you can stream Newsmax in a web browser.
Watch Newsmax on Amazon Fire TV
Newsmax also is available on Amazon Fire TV.
To watch Newsmax on Amazon Fire TV, all you need to do is install the Newsmax TV app. You can get to it by searching for "Newsmax" on your Amazon Fire TV. That works by searching with your voice — literally, just say "Newsmax" out loud after pressing the microphone button on your remote.
Or you also can install the Newsmax app on Fire TV by going to the Amazon Appstore page for Newsmax (opens in new tab) and then clicking the "Deliver to" button on the top right.
Watch Newsmax with a VPN
One of the best things about living in America is having the freedom to watch what you want to watch, when you want to watch it. That isn't true of everywhere else, though. And for that reason it's important to have a good VPN (opens in new tab) in your Democracy Toolkit.
A Virtual Private Network keeps your internet traffic free of limitations. It allows you to route things through American Servers and keep all your traffic American.
And that's the sort of thing you'll need to keep the News flowing when it's all said and done.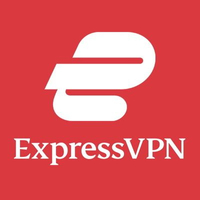 (opens in new tab)
If you're looking to watch Newsmax but aren't in your usual Newsmax viewing area, a VPN might well be the way to jump-start things.
ExpressVPN (opens in new tab) is one of the easiest and affordable ways to watch what you want from anywhere you want to watch it. Plus it'll help keep your network traffic away from any prying eyes on public networks. Because the Deep State is everywhere!
Get the latest updates, reviews and unmissable series to watch and more!
The What to Watch team helps you find out the how, when, where and why of sports and entertainment. We provide a comprehensive guide to all the must-see movies and shows that are coming your way. Our expert recommendations will help you decide how to make the most of your viewing time and make informed choices on the best TV and home entertainment devices to buy.
Thank you for signing up to Whattowatch. You will receive a verification email shortly.
There was a problem. Please refresh the page and try again.