Berlin Alexanderplatz (1980) | Rainer Werner Fassbinder's mega masterpiece on Blu-ray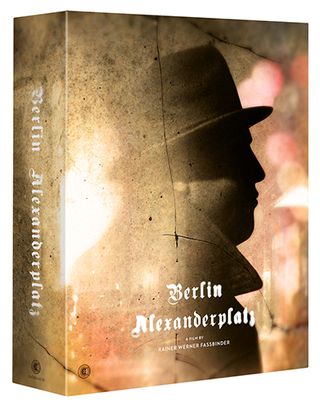 From acclaimed German director Rainer Werner Fassbinder's comes the captivating 15-hour odyssey Berlin Alexanderplatz on Blu-ray in a limited edition box set from Second Sight.
Weighing in at 15-and-a-half hours, Rainer Werner Fassbinder's mega-mini-series Berlin Alexanderplatz gets its Blu-ray debut in a limited edition box set from Second Sight.
Adapted and directed by Fassbinder from Alfred Döblin 1929 novel of the same name, it originally aired on TV in 1980 as a 14-part series, before being released theatrically in the US in 1983, where it earned cult status.
Today, it is regarded as the German director's magnum opus and a huge inspiration to film-makers like Michael Mann, Francis Ford Coppola and Todd Haynes.
So what it's about? Franz Biberkopf (Günter Lamprecht) is an unforgettable man: good-natured, soft, tender, but also hard, violent and brutal. Released from prison following a four-year sentence for the manslaughter of his girlfriend, he plans to make a new start and a decent life for himself. But a chaotic, decadent Berlin of the 1920s is not the easiest place for an ex-con to go straight and work is hard to come by. When Franz becomes fascinated by Reinhold (Gottfried John), a psychotic small-time crook, he is soon drawn back into a world he cannot escape…
Second Sight's Limited Edition Box Set (2000 copies only) features a 60-page collector's book and a host of special features including an appreciation by critic Tony Rayns, the documentary Fassbinder: Love Without Demands, and a visual essay by Daniel Bird. Available from Monday 23 July.
Thank you for signing up to Whattowatch. You will receive a verification email shortly.
There was a problem. Please refresh the page and try again.