90 Day Fiancé: The Other Way season 4 premiere has some shocking reveals
With this new batch of 90 Day rookies comes an innovative business, an interesting hair regimen and a life-changing announcement.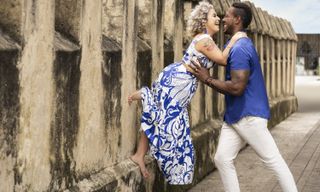 (Image credit: TLC)
As 90 Day fans turn the page on another season 90 Day Fiancé: Happily Ever After?, they welcomed with open arms a new crop of franchise rookies in 90 Day Fiancé: The Other Way season 4 (well, one couple isn't new, as they were seen on 90 Day Fiancé: Love in Paradise). Viewers weren't quite sure what to expect from these unfamiliar faces, yet their stories and perspectives provided quite the refreshing viewing experience. However, with this cast came some shocking revelations that the promo videos didn't quite prepare us for.
Not only does one cast member own a profitable, but very unique underwear brand, but one person has a haircare routine that actually rivals Big Ed's mayonnaise days. Plus, one New Yorker announced to her husband that she is changing plans when it comes to their living situation.
Here are just some of the revelations made in the 90 Day Fiancé: The Other Way season 4 premiere.
Gabriel owns an innovative underwear brand
While Gabriel's international journey of love as a transgender man was advertised ahead of the season 4 premiere, the unveiling of his actual company proved most interesting to watch. He developed Get More Proud Wear (opens in new tab) specifically for transgender men. Unlike most underwear on the market, his brand is in a particularly unique space.
He described that many times when someone identifies as a transgender man but has not gone through with having "bottom surgery," they often seek to pack their underwear with prosthetic genitalia, which can be a burdensome process. To help make things easier for those in this community, Gabriel came up with an idea to sow molds of genitalia in the underwear to give the appearance of a bulge. We'll give credit where credit is due, and tip our hat off to him with this business idea.
If you were wondering, his products range between $20 to $30.
Rishi takes an hour and a half to do his hair
We remember when the most extensive hair routine on TLC was Big Ed's mayonnaise regimen. Well, he ought to move over, as there are some new long tresses in town. Rishi is not only a former corporate attorney, but he's now a fitness trainer and a model with some amazing curly hair that is sure to be a cause of envy for some.
However, if you hoped to replicate his style for yourself, that's going to be a bit tedious. For starters, he said he goes through an hour-and-a-half process of styling his hair every other day. This includes washing his hair with rice water shampoo, then applying conditioner, wax, onion hair oil and lastly, organic coconut oil. Again, tedious.
Daniele announces she's moving to the Dominican Republic and not applying for Yohan's K-1 Visa
For those familiar with 90 Day Fiancé: Love in Paradise, then you already know about the roller coaster romance of Daniele and Yohan. The teacher/yoga instructor went to the Dominican Republic and met Yohan, and the two fell in love. Despite their differences and difficulties, they decided to get married and planned to combine their lives in Daniele's home in New York City.
Well, in the season 4 premiere of The Other Way, she dropped the bombshell news to her friends that she had enough of the Big Apple after 15 years and was moving to the Dominican Republic to be with Yohan. There was just the minor hitch of informing her husband that she wouldn't be applying for his K-1 visa because she had a change of heart.
When she finally shared her plans with her husband, he didn't take the news well. While her points of not wanting to live in New York City because of the cost were very valid, he wanted to finally leave the Caribbean and try to work for a more lucrative life in the US. It's a bit too soon to see how that all plays out, but we'll be staying tuned to see.
90 Day Fiancé: The Other Way season 4 airs on Sundays on TLC and streams on Discovery Plus.
Get the What to Watch Newsletter
The latest updates, reviews and unmissable series to watch and more!
Terrell Smith has a diverse writing background having penned material for a wide array of clients including the federal government and Bravo television personalities. When he's not writing as Terrell, he's writing under his pseudonym Tavion Scott, creating scripts for his audio drama podcasts. Terrell is a huge fan of great storytelling when it comes to television and film. Some of his favorite shows include The Crown, WandaVision, Abbot Elementary and Godfather of Harlem. And a fun fact is he's completely dialed into the TLC 90 Day Fiancé universe.