BBC Radio Christmas highlights revealed including Take That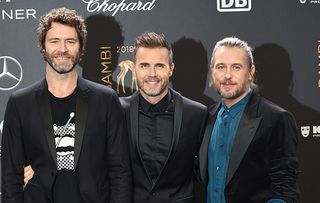 (Image credit: Falke Dorothee/action press/REX/)
Take That, Margot Robbie, Alan Carr and Peter Crouch are just some of the top stars on BBC Radio over the festive season
BBC Radio has revealed some of the treats listeners are in store for over the festive season. So, here's the BBC Radio Christmas highlights you can look forward to and when they're on...
BBC Radio 1 Christmas highlights
BBC Music Sound Of 2019, Monday 10th December, 7pm-9pm
First launched in 2003, this show aims to showcase rising stars of the future, with previous winners including Sam Smith, Adele and Ellie Goulding.
BBC Radio 1: Scott Mills reveals The Official Christmas Number 1, Friday 21st December, 4pm-6pm
Who will be the Christmas number 1 this year? DJ Scott Mills will reveal who has become the latest Christmas number 1. The Spice Girls, Ed Sheeran and Bob the Builder (!) are among those to have taken the crown before.
BBC Radio 1's New Year's Eve, Monday 31st December, from 5pm
If you're into dance, this is the one for you! There'll be dance anthems all day on Radio 1, with Arielle Free getting the nation in the mood by playing the best party tracks.
[The best TV shows to watch this Christmas]
BBC Radio 2 Christmas highlights
BBC Radio 2, Talking Take That, Christmas Day, 2pm-4pm
Gary Barlow, Howard Donald and Mark Owen head off down memory lane as they celebrate 30 years together in this Take That special. The boys share memories of life in the band and the music that has been with them on their journey. Listeners will discover what part tracks by Prince and Yasmin Archer have played in their lives.
BBC Radio 2, Jo Whiley Meets… (not final title), Monday 24-Wednesday 26th December, 7pm-8pm
Jo will be chatting to three very special guests - Margot Robbie, Jodie Whittaker and Noel Fielding in this series. Margot shares some of her favourite tunes, while Jodie talks Doctor Who and Noel plays some of his favourite records.
BBC Radio 2, Matt Lucas, Christmas Day, 11am-2pm
Comedian Matt Lucas presents his own special live Christmas Day show, joined by celebrity friends and his mum!
"I'm really excited to be live on Radio 2 on Christmas Day with a big show. Please don't rob my house."
Expect phone calls from celebs revealing what they're up to for Christmas.
BBC Radio 2, Carpenters, From A to Z, Sunday 23rd December, 5pm to 7pm
Graham Norton looks at the music and legacy of Richard and Karen Carpenter. It includes a brand new interview with Richard in which he talks about creating the Carpenters "sound" and their problematic relationship with the media.
Richard says, "I enjoyed the interview very much… when I listen to the two of us and how we complemented each other, it's astounding and really rare: this was a sister being born to a brother, who was put on this earth to showcase the sister. "
BBC Radio 2, Barry's Wireless Christmas, Sunday 23rd December, 9pm-11pm
Barry Humphries takes us on a journey to the Ghost of Christmas past as he heads back to the age of the wireless. He also reveals why he came to be sacked from his Christmas job in a top Melbourne department store and how he never gets a Christmas card from Dame Edna!
BBC Radio 2, When Jamie Met Harry, New Year's Day
Jamie Callum spends two hours chatting to one of his musical heroes, Harry Connick Jr. The pair talk about their shared love of New Orleans' musical history and their inspirations.
BBC Radio 3 Christmas Highlights
BBC Radio 3, Sean At Home With Renee Fleming, New Year's Day, 1pm-2pm
Sean Rafferty talks to Renee Fleming - who has sung for The Queen and at President Obama's inauguration - at her New York home where they discuss her eclectic musical tastes.
BBC Radio 3 In Tune Christmas Special, Friday 21st December, 5pm-7.30pm
Katie Derham and Sean Rafferty host this special festive edition of the drive time show, with performances from The Kingdom Choir, following their memorable performance at The Royal Wedding earlier this year.
BBC Radio 4 Christmas Highlights
BBC Radio 4, Neil Gaiman's Horse Mythology, Boxing Day, 3pm-4.30pm
In another BBC Radio Christmas highlight, Dame Diana Rigg, Derek Jabobi and Natalie Dormer are among the all-star cast as Neil Gaiman's Norse Mythology comes to Radio 4.
Tudors actress Natalie says: "It's great fun when you step into realms of fantasy, and radio is the perfect place for fantasy because you don't need the million dollar CGI effects."
BBC Radio 4, Desert Island Discs, 23rd December, 11.15am
Presenter Lauren Laverne is inviting Alan Carr to reveal his desert island discs. On the 9th December, Take That legend Gary Barlow is Lauren's castaway.
BBC Radio 4 The Hartlepool Spy, Christmas Day, 2.15pm-3pm
Michael Palin, Jim Moir, Toby Jones and Gina McKee are among the cast for this comedy-drama by Ian Martin.
Set in 1804, Britain is at war with France and a French ship is heading to Hartlepool…
BBC 5 Live Christmas Highlights
BBC 5 Live, That Christmas Special Episode
Former England footballer Peter Crouch has become a podcast legend as he shares the secrets of life as a professional footballer. Celebrating his podcast success, Peter along with his co-presenters, Chris Stark and Tom Fordyce, host a Christmas party at Peter's favourite curry house.
BBC Radio 5 Live, Kermode And Mayo End Of Year Review - Best of 2018, Christmas Day, 7pm-8pm
Mark Kermode and Simon Mayo talk over the best films of the year. And also reveal the films you don't need to bother with!
Pics: Take That: Falke Dorothee/action press/REX/Shutterstock, Scott Mills: Dimitris Legakis/REX/Shutterstock, Margot Robbie: PA, Alan Carr pic: David Fisher/REX/Shutterstock
Get the latest updates, reviews and unmissable series to watch and more!
Thank you for signing up to Whattowatch. You will receive a verification email shortly.
There was a problem. Please refresh the page and try again.