Bling Empire: New York's Dorothy and Deborah feud causes fans to pick sides
The two women never gave themselves a chance to be friends.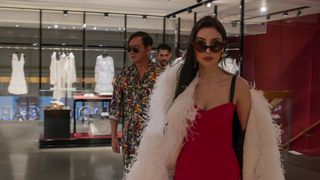 (Image credit: Netflix)
At the conclusion of Bling Empire: New York, there was one thing that became abundantly clear: stars Dorothy Wang and Deborah Hung are not friends. The two women spent the entire season throwing insults at each other while speaking to other castmates and in their personal confessionals.
The drama between Dorothy and Deborah started when the latter decided to host an anniversary party of sorts with her husband Stephen. On the evening of the event, as the couple and their guests are celebrating love, one person is noticeably late. We're talking about Dorothy of course. When she does eventually grace the party with her presence, the first remarks she makes to the camera are about the fact the venue doesn't have an "elevator, a coat check or like a bellman."
Meanwhile, discussing Dorothy's tardiness with Lynn, Deborah doesn't try to hide the fact she thinks the act is purely rude. Furthermore while speaking to producers, Deborah states:
"I didn't know who Tiffany Wong was… I don't know. It's just that she showed up in one of my events. Usually, when you have a timing, then you respect the timing. It's an art gallery, this is not a club."
Viewers never see the two ladies address each other at the party as shortly after Dorothy arrives, Deborah leaves with her own party with her husband without saying goodbye. A move that Dorothy certainly made note of to Tina Leung.
Just when you thought the start of their rivalry couldn't get even shadier, as Dorothy and Tina leave the venue space and talk about the night, the former was quick to say she didn't have fun and couldn't believe they "didn't even have one hors d'oeuvre." A "glamorous" party where guests are in designer gowns and blazers and where alcohol is being served dictates that food should be served as well in Dorothy's book. She really drove home that point in a social media video addressing the party's lack of food (although she never called the Hungs' name directly).
As Deborah caught wind of the video, she made an Instagram story of her own showing a dinner she and Stephen attended after their party with the caption, "Some people complaining when they are not even invited and arrived when the event finished." The story was definitely a clap back to Dorothy.
From that point on, the Bling Empire: New York stars continued to take digs at one another. Deborah purposefully kept referring to Dorothy by other names like Tiffany in her confessionals, and Dorothy kept calling her rival "auntie." Even when Tina set up a sit-down for the women to hash things out, Deborah used the opportunity to take another swipe at Dorothy. Mrs. Hung didn't show up for their meeting at the restaurant, and yet sent several plates of food to her nemesis' table (another response to Dorothy's comment about a "foodless" anniversary party).
The rivalry between these two stars is certainly unique in the reality TV world given the two never speak face-to-face throughout the season.
Bling Empire: New York fans react to Dorothy and Deborah's feud
As petty as their conflict may be, the drama between Dorothy and Deborah was sheer entertainment for Bling Empire: New York viewers. In terms of who's side they are on, many of them are choosing Dorothy. Take a look for yourself.
Bling Empire: New York is now streaming on Netflix.
Get the latest updates, reviews and unmissable series to watch and more!
Terrell Smith has a diverse writing background having penned material for a wide array of clients including the federal government and Bravo television personalities. When he's not writing as Terrell, he's writing under his pseudonym Tavion Scott, creating scripts for his audio drama podcasts. Terrell is a huge fan of great storytelling when it comes to television and film. Some of his favorite shows include The Crown, WandaVision, Abbot Elementary and Godfather of Harlem. And a fun fact is he's completely dialed into the TLC 90 Day Fiancé universe.
Thank you for signing up to Whattowatch. You will receive a verification email shortly.
There was a problem. Please refresh the page and try again.