Cliffhangers! Shane Richie and Jessie Wallace reveal their stuntwork for Redwater (VIDEO)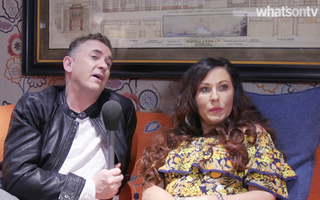 The EastEnders stars filmed some of their own stunts for new spin-off series Kat & Alfie: Redwater
Redwater has some pretty intense scenes but Shane Richie and Jessie Wallace reveal they loved doing their own stunts.
Both characters are firmly outside their EastEnders bubble in the Ireland-based drama that premieres on BBC1 on Thursday, May 18.
One scene in the series sees Alfie dangling off the side of a cliff. Shane admitted it was daunting to film, but explained he was attached to a wire. There was also a professional stunt crew on hand to help ensure he didn't get into any real trouble.
In an exclusive chat with What's On TV, Shane said he liked seeing Alfie pushed out of his comfort zone: "Where else would you see him hanging off the side of a cliff thinking he is going to die because it doesn't really happen much?
"[Well...] Except for one Christmas when Alfie put the lights, star on top of the tree and nearly fell."
Jessie also had her fair share of stuntwork in Redwater. The actress took to the brisk Irish sea for some underwater filming and joked she looked like the Michelin Man with the wetsuit on under her costume.
Shane jumped to ask the question What's On TV never could... "Did you do a wee in your wetsuit"?
Pretending to drown was tricky for Jessie, who kept bobbing back up to the surface before the team had the shot. They moved filming to a tank and attached weights to keep her down and she joked filming was 'an adventure on its own'.
Jessie admitted the water was freezing, but found it all very exciting. She was convinced she was underwater for 30 seconds and boasted about her achievements. It was only when a member of the public posted a video on Twitter she realised she had only lasted four seconds!
Kat & Alfie: Redwater premieres on BBC1, Thursday, May 18.
Interview by Nick Cannon
Get the latest updates, reviews and unmissable series to watch and more!
Thank you for signing up to Whattowatch. You will receive a verification email shortly.
There was a problem. Please refresh the page and try again.