Shane Richie – 'Kat and Alfie: Redwater is like Broadchurch!' (VIDEO)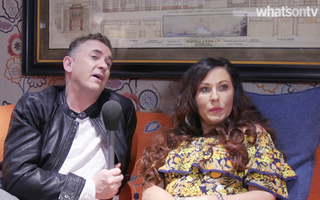 Shane Richie and Jessie Wallace explain why spin-off series Kat and Alfie: Redwater is more like Broadchurch than EastEnders…
Thought you'd seen the last of EastEnders' Kat and Alfie Moon? Think again! Stars Shane Richie and Jessie Wallace have reprised their iconic soap roles for Kat & Alfie: Redwater, a new, standalone series set in Ireland.
In BBC1's six-part drama, Kat and Alfie take their young son Tommy to the seemingly idyllic Irish fishing village of Redwater. But this isn't a holiday – they're on a mission to locate Kat's adopted son, who was taken without her consent when she was a teenager. The Moons' presence in Redwater, however, opens up a nasty can of worms for the East End couple and quite a few local residents…
In a recent chat with What's on TV, Shane Richie and Jessie Wallace revealed Redwater is a mystery drama with wide appeal and no previous knowledge of EastEnders is necessary!
"Everyone has his or her own little individual stories. Even if you don't know Kat and Alfie you are going to get the gist of it straight away, because they've got this secret and she speaks about it at the start," explains Jessie Wallace, who plays Kat – the mother desperate to locate the son taken from her at his birth when she was just a teenager.
"Straight away, even if you don't know who Kat and Alfie are, you see what kind of bloke he is, what kind of woman she is, and their relationship," adds Shane Richie, who plays Alfie. "I think that was important for the BBC and certainly for producer Dominic Treadwell-Collins that, should Redwater get shown in America or places that are not familiar with Kat and Alfie, they know straight away who this couple are, what their relationship is, and why they are there."
It's not just Kat and Alfie who are at the centre of drama in Redwater. Their arrival acts as a catalyst, which unearths the long-buried secrets of some locals… with shocking consequences!
"It is a bit like Broadchurch, really. You know who Olivia Colman and David Tennant are but there's a lot of other characters the audience will be really interested in," reveals Shane. "They have all got stories to tell and they all have secrets they're trying to keep hold of. I think that is what the strength of Redwater will be; it will be a whole new community that Kat and Alfie happen to be a part of."
Kat & Alfie: Redwater is on BBC1, Thursdays at 8pm from May 18.
Interview by Nick Cannon
Get the latest updates, reviews and unmissable series to watch and more!
Thank you for signing up to Whattowatch. You will receive a verification email shortly.
There was a problem. Please refresh the page and try again.