Darcey & Stacey season 4 kicks off with a sisterly blowout
Is Darcey jealous of Stacey?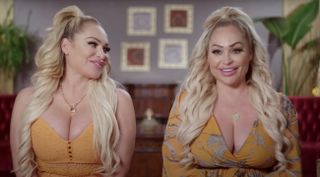 (Image credit: TLC)
The Silva sisters are back in action with Darcy & Stacey season 4, and the season premiere wasn't short on drama. While the conflict in the series usually originates in the romantic entanglements of the sisters, this time around it was the sisters going back and forth with each other that caused most of the tension.
It all started as the duo from the 90 Day universe were getting settled in their second home of Miami. Both were looking forward to being in the city as they hope to take their clothing brand House of Eleven to the next level. While they both are in business together and share similar goals for the company, Darcey and Stacey are each living separate personal lives that no longer parallel as they once did. In season 3, both sisters were in relationships, but at the start of season 4, Darcey was once again on the search for new love and Stacey was happily married planning a lavish wedding ceremony.
To viewers, it became clear the difference in relationship status for the twins has become a bit of a sore spot in the sisterly bond. This became abundantly clear when the twins went to meet their friend for dinner. While talking about their love lives with their dinner companion, Stacey took the time to share with her sibling that she and Florian were planning to go forward with a wedding with just her and her husband. Given Darcey's single status, they decided to nix the idea of a double wedding. While Darcey understood, she was visibly impacted by the news.
Then there was the incident with their new living arrangements. Unlike their previous home in which Darcey and Stacey lived together, in their new Miami digs Stacey for once is living in the top apartment above Darcey. While Stacey was pleased to be staying with her husband in the upper apartment, Darcey was not so happy to have her sister point out this fact and remind her she is not sharing the downstairs apartment with a mate.
The most profound example of discord between the two came when Stacey went to her sister's apartment to offer help in locating Darcey's clothes among the moving boxes. Shortly after entering Darcey's place, Darcey lashed out at Stacey for her unsolicited assistance. Darcey made claims of not wanting to be treated like a child by her sibling and brother-in-law and not wanting to be their third wheel. Stacey didn't take kindly to the remark and responded in kind by refuting the claim and telling Darcey, "Get your attitude out your ass. You're going to push guys away like that."
That one comment had quite the profound effect on Darcey, who admitted to being hurt by the statement. Darcey took that hurt with her on the sister's joint yacht party and barely uttered two words to Stacey. When the two did speak again by the end of the season 4 premiere, it was largely Darcey once again lashing out at her twin.
The unusual onscreen back and forth between the Silvia sisters left viewers scratching their heads wondering if it all stemmed from the fact that Darcey may be jealous of where Stacey is in her life romantically.
Darcey & Stacey fans weigh in on the sisters' fight
Looking at viewers' input on Twitter, it appears a number of them saw jealousy as the cause of conflict between Darcey and Stacey. Check out what fans are saying.
Darcey & Stacey season 4 continues to air on Mondays on TLC. New episodes also become available to stream on Discovery Plus the same day.
Get the latest updates, reviews and unmissable series to watch and more!
Terrell Smith has a diverse writing background having penned material for a wide array of clients including the federal government and Bravo television personalities. When he's not writing as Terrell, he's writing under his pseudonym Tavion Scott, creating scripts for his audio drama podcasts. Terrell is a huge fan of great storytelling when it comes to television and film. Some of his favorite shows include The Crown, WandaVision, Abbot Elementary and Godfather of Harlem. And a fun fact is he's completely dialed into the TLC 90 Day Fiancé universe.
Thank you for signing up to Whattowatch. You will receive a verification email shortly.
There was a problem. Please refresh the page and try again.