10 Years Ago in the Soaps including EastEnders: Week Beginning July 28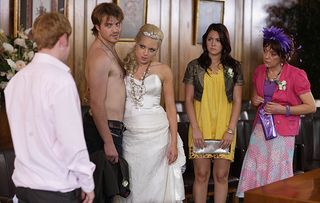 (Image credit: BBC)
10 Years Ago in the Soaps: Remind yourself of all the soap drama happening in EastEnders, Coronation Street, Emmerdale and Hollyoaks 10 years ago this week!
10 Years Ago in the Soaps - Sean Slater tied the knot with Roxy Mitchell in EastEnders, Liz Tomlin threw her love rival out on her ear in Coronation Street, Gray Sinclair tried to stop Katie Sugden running out on him in Emmerdale and Ste Hay plunged from a rooftop in Hollyoaks…
10 Years Ago in the Soaps - EastEnders
It was Sean Slater (Rob Kazinsky) and Roxy Mitchell's big day and obviously there was no way that was ever going to go smoothly! The bridegroom had a serious case of cold feet and the bride's sister Ronnie was determined to stop Roxy (Rita Simons) marrying him. When Sean did finally show up at the register office he was topless and looking like a tramp. Roxy insisted he swap clothes with poor Bradley Branning (Charlie Clements) and told Ronnie she was getting married whatever she said. And so, Roxy and Sean tied the knot!
Ben Mitchell's passion for dancing was a secret he was desperate to keep from his macho dad Phil (Steve McFadden). Phil wanted his son to be into footie not foot-tapping! But Ben found himself an unexpected ally in Shirley Carter (Linda Henry) who was surprised when she found Ben secretly practising his moves. She decided to tell Phil herself, but all hell broke loose. Phil stormed in to see Ben and told him off for lying to him. Later Shirley apologised to Ben - and told him he should carry on dancing, no matter what his dad said.
10 Years Ago in the Soaps - Coronation Street
Harry Mason (Jack Ellis) was confused. His wife Clarissa had asked for a divorce, which he was happy to give her, but it turned out she was still expecting them to kiss and make up as they usually did. In the meantime, he'd been enjoying a fling with Liz Tomlin (Beverley Callard) but she was understanding when he said he had to give it another shot with Clarissa… at least, she was until Clarissa came into The Rovers and warned her off Harry. Liz told her no one called the shots in HER bar - and chucked her out. Go Liz!
Tony Gordon was a man used to getting his own way and, for some reason, he wanted Kevin Webster's garage. Kev (Michael le Vell) refused to let him buy it, so Tony played dirty… Kevin was shocked when Lloyd Mullaney told him they'd been offered a cheaper deal for servicing the Streecars cabs, a deal Kevin knew he couldn't match. He went round to confront the competing garage owner and was annoyed to find it was was Tony's mate Jimmy Dockerson (Robert Beck). War was declared!
10 Years Ago in the Soaps - Emmerdale
Gray Sinclair had hit rock bottom. He was furious with Katie Sugden (Sammy Winward) for letting his estranged wife Perdy escape the village with the baby Katie had had for them and forced his way, drunk, into her cottage. When she refused to tell him where Perdy had gone, Gray started ransacking the place looking for evidence of her whereabouts. Petrified, Katie made a run for it, only for Gray to catch her and drag her back towards the house. Happily a knight in shining armour in the shape of Paul Lambert was on hand to drag Gray off her. And give him a punch…
Sam Dingle (James Hooton) has alway had a soft heart and 10 years ago he was swimming in dangerous waters by giving Jo Sugden a shoulder to cry on. Sam also helped by looking after her step-daughter Sarah Sugden and cooking her dinner. His kindness made Jo teary. It also made her come very close to telling him that her husband, Andy, hit her. When she gave him a peck on the cheek, Sam was over the moon. His step-mum Lisa Dingle warned Sam against pursuing Jo - and Sam told her to back off. He can be stubborn when he wants!
10 Years Ago in the Soaps - Hollyoaks
Ste Hay (Kieron Richardson) hated himself for hitting Amy Barnes, but not as much as Amy's family hated him now they'd found out what was going on. Amy was refusing to take Ste's calls and when he begged Father Kieron Hobbs (Jake Hendriks) to get a message to her, Kieron was working and couldn't help. Next thing he knew, Ste was at the top of some scaffolding and threatening to jump. Kieron started climbing up to Ste but, as he reached out to him, Ste spotted Amy below, lost his balance - and fell. As we now know, he survived!
Sarah Barnes (Loui Batley) didn't make a habit of fancying bananas but for some reason the sight of Elliot Bevan (Garnon Davies) dressed head-to-toe in yellow set her heart racing. She, Elliot and Hannah Ashworth (Emma Rigby) were all in banana costumes for a publicity stunt, and Sarah was surprised at how jealous she felt of Elliot and Hannah's closeness. Hannah was actually giving Elliot advice on how to woo Sarah, but when his efforts failed to work he asked Hannah for a date instead, blissfully unaware of Sarah's jealousy. What a fruitcake!
Get the What to Watch Newsletter
The latest updates, reviews and unmissable series to watch and more!