Shock baby bombshell for THIS unsuspecting Emmerdale couple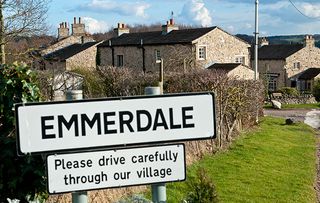 (Image credit: ITV)
The pitter patter of tiny feet could be heading for Victoria and Ellis...
Emmerdale's Victoria Barton and Ellis Chapman have only been an item for a short time, but it looks like their relationship might be about to get a lot more serious...
At the start of next week, the biggest thing that Victoria has on her mind is the constant bickering going on between boyfriend Ellis and his ex-con brother, Billy.
Fed up with the pair always at each other's throats, Victoria takes drastic action and locks the men in a portakabin, hoping it will give them both some time to sit down and talk about their issues.
But what she doesn't count on is the fact Billy is fresh out of jail, and he doesn't react too well to being locked up again.
As Billy has a panic attack, Ellis sees a new side to his half sibling and it looks like the ice between them might be starting to thaw... but will it last?
But as the week goes on, Victoria realises she has much bigger things to worry about when she thinks she might be pregnant.
Frantically calling Ellis while she is at Marlon's house, spoiler pictures show the pub chef clutching a pregnancy test. But will it be positive?
Typically, Ellis doesn't answer his phone and so Victoria is forced to leave a tense message, asking him to call her back immediately.
But as she is leaving the message, an unsuspecting Marlon and Jessie come down the stairs and Victoria is forced to throw the test under the sofa before they see.
So will Victoria and Ellis be welcoming a new baby into the world by the end of the year, or could this be a false alarm?
Either way their relationship is about to change dramatically as they have big things to talk about.
Emmerdale airs weeknights at 7pm on ITV, with an extra episode at 8pm on Thursdays.
Picture credits: ITV
Get the latest updates, reviews and unmissable series to watch and more!
Thank you for signing up to Whattowatch. You will receive a verification email shortly.
There was a problem. Please refresh the page and try again.