Holby's Chizzy Akudolu: 'It's not the right time for Mo to have a baby!' (VIDEO)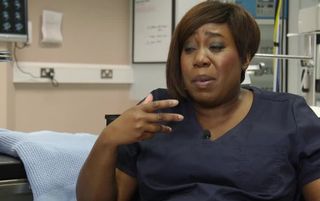 After finding out she's pregnant, Holby City consultant Mo Effanga has got a tough decision to make...
Mo Effanga got a big shock in tonight's Holby City when, after running out of surgery feeling sick, she then discovered she was pregnant!
Mo once wanted to become a mum so badly that she made an arrangement with obstetrician and close friend Mr T (Ben Hull) that he would act as a sperm donor for her. But they abandoned their plan when Mr T started taking the process WAY too seriously...
Talking to What's on TV, Chizzy Akudolu, who plays Mo, said: "Mr T would be the perfect 'baby daddy' because he's a baby doctor and also he's just a lovely man. He did get a bit carried away when they were going to do the artificial insemination; he picked out baby names and looked at schools and all that kind of thing. But it's just his enthusiasm because he wanted to be a dad and he wanted to be with Mo."
It looked like Mr T was going to get his wish when, months later, he shared a night of passion with Mo. So he was gutted when Mo insisted their tryst was a one-off and would NOT be happening again. Heartbroken, Mr T fled to Sweden and hasn't been seen since.
"I definitely think Mo regrets how she ended things with Mr T because he's such a lovely man and I think she just feels like maybe he's not THE man; she wants somebody and bit more macho, a bit more alpha," said Chizzy. "He might not be what she wants but he is what she needs. And then, once he was gone, she finally realised: 'Oh my gosh, he IS what I really want'"
Despite the efforts Mo went to in trying to conceive previously, it seems she struggles to come to terms with her pregnancy in next week's Holby…
"First of all, it obviously comes as a shock and then she wants to have a termination because this isn't the right time, she's just become a consultant, also her baby daddy is off in Sweden, so she thinks the best thing to do right now is have a termination."
Watch our interview with Chizzy Akudolu, above…
Holby City on Tuesday July 12 at 8pm on BBC1.
Get the latest updates, reviews and unmissable series to watch and more!
Thank you for signing up to Whattowatch. You will receive a verification email shortly.
There was a problem. Please refresh the page and try again.