The Midnight Gang BBC1 - everything you need to know about David Walliams' Christmas show!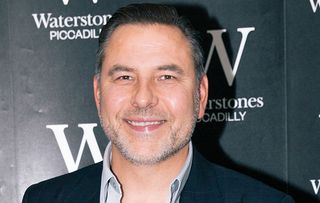 (Image credit: Ben Perry/REX/Shutterstock)
Christmas isn't just about feasting and family - it also means there's loads of great telly! One of the most hotly-anticipated shows this year is the TV adaptation of David Walliams' book, The Midnight Gang. Here is everything you need to know - including who has the starring role...
The Midnight Gang promises to be one of the highlights for all the family this Christmas. Watching a TV adaptation of one of David Walliams' much-loved books at Christmas has become as much a tradition as turkey and tinsel, and this year's offering is set to thrill fans.
The Midnight Gang is the seventh book written by the comedian-turned-children's-author to be adapted into a comedy drama, with the BBC starting back in 2012 with Mr Stink. Since then Walliams' books Gangsta Granny, The Boy In The Dress, Billionaire Boy and Grandpa's Great Escape have all been made for the BBC. Walliams also filmed Ratburger for Sky.
Who is in The Midnight Gang?
As with most of his book adaptations, the hilarious David Walliams himself will appear in The Midnight Gang. While the rest of the cast is yet to be announced, David revealed on Twitter that he would be playing the role of the Headmaster.
What is is about?
The Midnight Gang tells an extraordinary, and of course, funny, story of five children on a hospital ward who are on the quest for adventure. It is a story of friendship, magic and making dreams come true.
The main character is a little boy called Tom, who gets hit on the head by a cricket ball and finds himself in the Lord Hunt Hospital. When he arrives he's greeted by a terrifying porter, but things soon go from bad to worse when he then comes face-to-face with the wicked matron in charge of the children's ward.
But fear not, because Tom is about to have the adventure of a lifetime - and we're being taken along for the ride!
When will The Midnight Gang be on TV over Christmas?
Although there's yet to be an official date announced for The Midnight Gang, David himself revealed on social media that it would be on over Christmas. Seeing as previous adaptations for his book have mostly been aired either at Christmas or New Year, we'd say one of those is a pretty safe bet.
Picture credits: David Walliams pic Ben Perry/REX/Shutterstock; Grandpa's Great Escape: BBC/King Bert Productions/Graeme
Get the latest updates, reviews and unmissable series to watch and more!
Thank you for signing up to Whattowatch. You will receive a verification email shortly.
There was a problem. Please refresh the page and try again.