'Every day's a struggle and Christmas is tricky' – Nadia Sawalha's husband reveals alcohol battle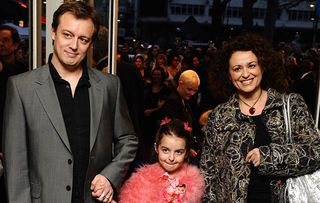 (Image credit: PA Archive/PA Images)
Mark Adderley, the husband of Loose Women star Nadia Sawalha, has opened up about his 12 years of sobriety
The husband of Loose Women star Nadia Sawalha has revealed every day is a struggle in his fight with alcoholism.
Mark Adderley, who has been sober for 12 years, said the Christmas period is still a difficult time for him because of the temptation to drink.
In a frank conversation with Nadia and her co-star Kaye Adams on their YouTube channel, Mark said: "Every day is a struggle. Every day is a huge effort, to not get up literally, but a huge effort to tackle the day.
https://www.youtube.com/watch?v=vIS5I01qoXI
"The whole day is to be attacked, it's to be grappled with, it's to be fought.
"But so it is for everyone and some days I can wake up and be really up for the fight, but it's those days you can't be up for the fight that you feel it so completely.
"That is why you turn to certain substances to try to get through it."
He added: "Christmas is a tricky time of year. I find it so hard when I go into town and walk through Soho, where I used to do most of my drinking."
He said he feels the urge to phone up his wife to suggest going out, but knows he would end the night in 'carnage', adding his behaviour would be like that of the Joker in the film Suicide Squad.
Sitting next to Mark in front of a Christmas tree, Nadia said: "There are so many men and women who have partners who are drinkers and Christmas is all about the escalation of alcohol, how many bottles of wine, the whisky, the Baileys.
"It's an excuse to have multiple drinks on the go and it's horrible for their partner and families and friends."
Mark, who was arrested for drink driving and received treatment at a rehab facility, said thinking of his wife and children is what helped him get sober.
He said: "The most important thing they used to say in the Priory is you need to need to do it for yourself – you're not getting sober for your wife, you're not getting sober for your children – and I've said this many times, I differ from that – it's bullshit.
"There's no better reason to get sober for your wife, your children, your family, because I struggle to find a reason to do it for myself because I think I could cope, I could carry on… The best reason is Nadia and the kids. That is what has worked for me."
Get the latest updates, reviews and unmissable series to watch and more!
Thank you for signing up to Whattowatch. You will receive a verification email shortly.
There was a problem. Please refresh the page and try again.