Olly Murs Opens Up About Difficult Departure From The X Factor: 'I Felt Down And Depressed'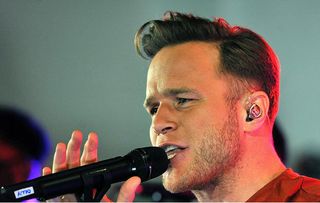 Olly Murs has spoken of his difficult departure from The X Factor.
Olly Murs has lifted the lid on his time presenting one of the UK's biggest prime time live shows, revealing that a number of blunders on the show led to a personal crisis.
Olly co-presented The X Factor in 2015 with fellow host Caroline Flack.
However, the pair only lasted one season- with many presuming that the gaffes made by the pair whilst live on air had led to them being let off by boss Simon Cowell.
In one infamous escapade, Olly had accidentally revealed the result of the Deadlock whilst live on air, all before the process had been carried out- ultimately accidentally revealing who was being sent home from the competition.
Speaking of the accidental reveal, and his time live presenting such a massive show, Olly shares with The Daily Star: 'I was dealing with the pressures of this industry when I was first in the public eye… it's not easy for anyone'.
Olly continues, 'When I was on X Factor with all the stuff that happened it was intense. There was a lot of pressure on my shoulders hosting at the time what was the biggest show on TV'.
Speaking of his departure from the show, with some assuming he'd been possibly fired, Olly adds: ' I've learnt from those times I felt down and depressed. I think positive, you can't dwell on the past.'
Speaking of the harder times following his departure, Olly shares: 'Luckily, I have a good team around me who saw I was in that place and they got me out of it very quickly. And being the positive guy that I am I moved away from it'.
However, whilst The X Factor didn't quite work out for Olly, the 33-year-old has managed to land himself a top spot on rival show The Voice as a voice coach- which will be starting early next year.
Alice Perry
Get the What to Watch Newsletter
The latest updates, reviews and unmissable series to watch and more!