Sparks didn't fly in The Bachelor first kiss: why one contestant walked out before rose ceremony
"My heart wasn't feeling it," said Bachelor Zach Shallcross.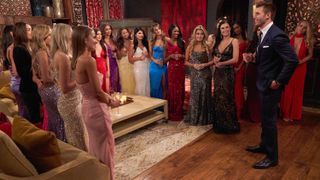 (Image credit: ABC/Craig Sjodin)
The first night is in the books for The Bachelor season 27 and new leading man Zach Shallcross. Mr. Right Reasons was in good form as he greeted 30 women in his quest to find love. While he hit it off with many of them, by the end of the night he sent a third of them home, including one woman who didn't even wait around for the rose ceremony.
As with most first nights on the show, there were clever introductions (including a pet pig and a maple syrup toast) as well as conversations meant to make the women stand out later on during the first rose ceremony. Zach changed the diaper on a fake baby, danced in a party bus and confided about who he is and what he's looking for in a partner.
There were also kisses. Lots of kisses. Some of the kisses were well received, but when it came to his kiss with Madison, well, it didn't go over the way she planned. She thought it was "subpar" while Zach, who didn't seem ready to kiss her in the first place, admitted that he "didn't know if [he] was feeling that kiss. It didn't feel right."
Though it's still early, if we had to pick a frontrunner in the competition it would have to be Greer. Zach and Greer had chemistry from the moment she stepped out of the limo and offered him a coffee — to help him stay awake during the long night and because it was "piping hot" like him.
Later, they talked about the future and Greer indicated that she wanted to settle down in Austin. He asked if he could kiss her, and she said yes. The women in the house watched as they shared a very passionate kiss that set the tone for the rest of the evening, as Greer eventually won the First Impression Rose. "It was one of, like, the easiest conversations I've had," he told her. "I really enjoyed it and I can't wait to get to know you more."
Madison couldn't get past the first kiss debacle, or the fact that he didn't reward her with the First Impression Rose, leading her to demand answers. She interrupted Jess and Zach's conversation and put him on the spot: "I don't want to force things and I want things to come natural. And whatever this A) might become or B) could've been, I just want to make sure you want me on this journey."
Zach, as it turns out, wasn't on the same journey, confessing that his "heart wasn't feeling it" when it came to the kiss and that he didn't want to pretend there were feelings that didn't exist. As a former contestant on The Bachelorette, Zach knows all about being in Madison's shoes.
Instead of waiting for the rose ceremony, Madison chose to leave. "I cannot believe I gave up my life for him," the business owner said later.
Fans were quick to weigh in on Madison's "journey" and her confusing manicure…
20 women were left at the end of the night. Brianna was the winner of the America's Choice rose from The Bachelorette finale, so she was automatically safe along with Greer. The other women remaining are Ariel, Aly, Anastasia, Bailey, Brooklyn, Charity, Christina, Cat, Davia, Gabi, Genevie, Jess, Kaity, Katherine, Kimberly, Kylee, Mercedes and Victoria J.
The Bachelor airs Mondays at 8 pm ET/PT on ABC and next day on Hulu.
Get the latest updates, reviews and unmissable series to watch and more!
Editorial Content Producer
Sarabeth joined the Watch to Watch team in May 2022. An avid TV and movie fan, her perennial favorites are The Walking Dead, American Horror Story, true crime documentaries on Netflix and anything from Passionflix. You've Got Mail, Ocean's Eleven and Signs are movies that she can watch all day long.
When she's not working, Sarabeth hosts a podcast dedicated to books and interviews with authors and actors. She's also very close to realizing her lifelong dream of publishing a novel.
Thank you for signing up to Whattowatch. You will receive a verification email shortly.
There was a problem. Please refresh the page and try again.