Two more Special Forces celebs flame out
After being set on fire, they officially hit their limit.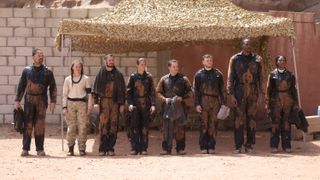 (Image credit: Pete Dadds / FOX )
Fans of Special Forces: World's Toughest Test that have been keeping up with the show are fully aware that the challenges are getting harder every week. The directing staff has managed to put the celebs through several tests that proved to be too much for a majority of the original 16 contestants including a Spice Girl, a celebrity chef and even an Olympic Gold-medalist.
In an episode that aired on February 1, both the celebs and viewers were stunned to learn that the weekly challenges would require those left on the show to be set on fire (literally). Let's just say being set ablaze in the desert heat and then being forced to do three laps of a grueling course are where two more people melted away from the competition.
Before we get to that, let's start with the first test of physical/mental strength that occurred, which required the celebs to conquer their fear of heights. Each of them had to get from one shipping crate to another, while suspended in the air and walking across two thin planks. Additionally, they were tasked with doing so hands-free.
After each of them conquers the feat, they are thrown into another challenge that is the toughest yet. The celebs had to be set on fire and run to a sand bank where they would then stop, drop and roll until extinguishing the flames. The catch was they couldn't panic and put the fire out too early.
This was not a good week for Real Housewives of Atlanta star, Kenya Moore, to do this particular test as she was operating with a bum knee. However, she mustered the strength to power through and successfully make it through the challenge, but not without further injuring herself.
Once each celeb extinguished themselves in the desert sand, former President Trump operative Anthony Scaramucci declared he had enough. He could no longer take being on the show and called it quits. His exit wasn't much of a surprise given he threatened to leave the week prior.
After he departed, the remaining contestants were forced to do a few laps around a physical course (this was a punishment of sorts as they hadn't properly put up their gear for the day). Three laps were not something in the cards for the famous Peach as she could barely walk at this point, and with that, she too bowed out from the show.
If you're counting, there are now only six celebs that remain.
Special Forces fans react to Kenya Moore and Anthony Scaramucci quitting
It looks like viewers were really pulling for Moore to make it until the end. They've showered her with love on Twitter. Even Special Forces directing staff agent Remi Adeleke complimented her with the title "Queen." Scaramucci also got his fair share of well wishes. Take a look.
Special Forces: World's Toughest Test continues to air on Wednesdays on FOX. Episodes become available the next day on Hulu.
Get the What to Watch Newsletter
The latest updates, reviews and unmissable series to watch and more!
Terrell Smith has a diverse writing background having penned material for a wide array of clients including the federal government and Bravo television personalities. When he's not writing as Terrell, he's writing under his pseudonym Tavion Scott, creating scripts for his audio drama podcasts. Terrell is a huge fan of great storytelling when it comes to television and film. Some of his favorite shows include The Crown, WandaVision, Abbot Elementary and Godfather of Harlem. And a fun fact is he's completely dialed into the TLC 90 Day Fiancé universe.