Can The Voice UK's Max Vickers join his friend Mo Adeniran in the quarter-finals?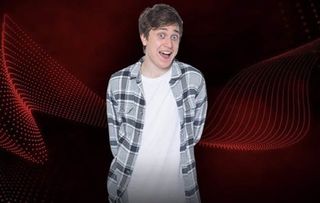 The Voice UK contestant Max Vickers has reached the knockout round. Here, he talks about singing on Sunday night to join his friend Mo Adeniran in the quarter-finals…
We spoke to The Voice UK contest Max Vickers as he prepared for his knockout round in the competition this Sunday…
You're singing The Arctic Monkeys' Bet You Look Good On The Dancefloor, Max. Are you ready? "Rehearsals are going good. You can practice a song as much as you can in your room and what-not but it's when you're with the band that the performance takes shape, and you have to adapt to that. But it's going well."
Your flatmate, Mo Adeniran, on Team J-Hud, is already through – does that put pressure on you both? "No, it's not putting any pressure on the friendship whatsoever. It's like a game of Fifa, innit? If anything, how ever well Mo does, it makes me want to push myself more. It brings out the best in me. I know what we can both do and I'm so proud to see Mo doing what he's doing the best he can. And I know he's got a lot more in the tank, which is wicked! It'll be funny if we end up competing against each other."
What was it like watching Mo last weekend? "It was great, it was top! Mo is marked as the favourite to win the contest. But I'd be uncomfortable with tag as it's a lot of pressure. But I think anybody [in the competition] can do anything good at any point. It was such a relief to see Mo get through, though, because you just don't know who's going to go through, no matter how well people sing, the public are the ones who decide who stays in the contest."
And what's your mentor Gavin Rossdale like as a coach? "For me personally, he's said a lot to me about being myself and that's really helped me… made me feel very comfortable, because everyone's different, everyone's a different artist… I couldn't sing like Diamond or Carter, I couldn't do what they're doing. But doing what I'm doing…it's good to confirm your own identity and I think everyone can express their own identity from their songs."
The Voice UK continues tonight on ITV, 8.30pm…and Gavin and his band Bush will be performing during the show.
https://www.youtube.com/watch?v=wreD0v18RzM
Interview by Victoria Wilson
Thank you for signing up to Whattowatch. You will receive a verification email shortly.
There was a problem. Please refresh the page and try again.