EastEnders spoilers: Sharon Watts gets a surprise PROPOSAL!
Airs at 7:30 pm on Thursday 23 March 2023 on BBC One.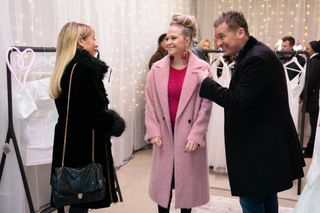 (Image credit: BBC)
Sharon Watts is in a dilemma after Alfie Moon tries to get her involved in his wedding emporium in Thursday's episode of EastEnders (7:30 pm. see our TV Guide for full listings)
Sharon Watts may not have marriage in mind but Alfie Moon wants to put her in a romantic mood with one of his schemes!
Stacey Slater is still in desperate straits financially, after a very scary threat from loan shark Shiv, who is demanding his payments with extra interest.
With a huge stock of designer wedding dresses in the house from one of Big Mo Slater's dodgy deals, Alfie suggests that they flog a few to raise the cash for Stacey.
Alfie needs a glamorous assistant to show off the dresses and he asks Sharon if she'll do him the honour!
Although tickled by Alfie's request, Sharon lets him down gently, saying she's not up for getting all dolled up in bridal gear. She lands Linda Carter in it instead, suggesting she'd be up for helping out!
Initially reluctant, when Linda sees Alfie making a pig's ear of trying to sell the stock, she can't resist stepping in.
Desperate for the dresses to sell, Stacey is clock-watching as the time ticks down to Shiv's deadline.
Can Alfie make Stacey enough money to pay off Shiv and avoid his threat of violence?
Alfie's wedding emporium may not be Sharon's cup of tea, but one Albert Square resident is VERY Interested!
Kathy Beale is keen to get things moving and get married to Rocky Cotton after his surprise proposal at the end of last year.
When she spots the dresses, she is instantly won over and after trying one on, she is smitten.
Rocky is terrified when Kathy tells him she's got a dress and she's booking a date, knowing that he's failed to tell her a big secret...
After Kathy excitedly told him she'd love to get wed, Rocky hinted to Mitch Baker that he married a woman years ago but hasn't seen her since.
Is Kathy about to get her heart broken?
Jack Branning is fuming when he finds out that Chelsea Fox knows he's investigating Ravi Gulati.
Assuming Denise told Chelsea, he furiously confronts her, accusing her of compromising the case into Ravi, which a newly promoted Callum Highway is also investigating.
Keen to keep Ravi well away from the Branning-Fox household, Jack squares up to Ravi and tells him to keep his mitts off Chelsea!
Ravi's not intimidated by Jack in the least and after winding up Jack about the state of his marriage, he agrees to stay away if Jack feeds him information on the investigation.
With Jack stuck in a difficult situation, when Denise later tries to put Ravi in his place, he issues her with a threat that leaves her terrified...
Also, Patrick Trueman has a win on the horses after putting on a bet in honour of his former wife Yolande Trueman's 70th birthday!
The horse is called 'Little Prayer', which was the name of the song that they played at their wedding.
Patrick and Yolande divorced back in 2008 and she moved to Birmingham, but when she popped back to the Square in 2017, it was clear there was still a spark between them.
Feeling wistful about his lost love, after counselling Denzel Danes not to take love for granted, Patrick announces he's going to try and win Yolande back!
EastEnders continues on BBC One on Monday at 7:30 pm.
Get the What to Watch Newsletter
The latest updates, reviews and unmissable series to watch and more!