'Bradley and Barney Walsh: Breaking Dad' season 4: the famous father and son duo guide us through their 2022 series
By Nicholas Cannon published
In 'Bradley and Barney Walsh: Breaking Dad' the pair are taking their trusty RV to Croatia, Hungary and Norway.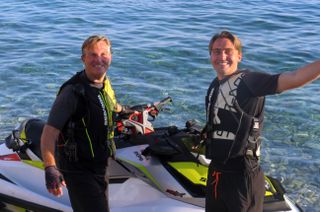 (Image credit: ITV)
Bradley and Barney Walsh: Breaking Dad is back for its fourth series on ITV and daredevil son Barney is determined to once again frighten the living daylights out of his old dad. This six-parter, following on from their 2021 Christmas special, sees the duo tripping around Europe in their trusty RV, taking in a spot of free diving in sunny Croatia, catamaran racing in Hungary and attempting a quite frankly, terrifying, bobsleigh track in Norway. Bradley, as ever, is not best pleased with the scary challenges set by his son.
Bradley, who the current host of Blankety Blank, and The Chase and star of The Larkins, told us: "'We're free-diving, throwing ourselves off football stadiums, bobsleighing – I don't enjoy any of it! You're out of control and I'm a control freak! Why do we do all of these crazy things?'"
So here's everything you need to know about Bradley and Barney Walsh: Breaking Dad season 4, including a lovely catch-up interview with both Bradley and Barney where the banter is well and truly flowing..
'Bradley and Barney Walsh: Breaking Dad' season 4 air date
Bradley and Barney Walsh: Breaking Dad season 4 begins on ITV on Monday 17 January 2022 with episodes then running weekly at the same time. Each episode will also later appear on ITV Hub. We haven't any news on a worldwide release date yet but we will update if we hear.
Is there a trailer for 'Bradley and Barney Walsh: Breaking Dad' season 4?
There isn't a trailer yet for series 4 of Bradley and Barney Walsh: Breaking Dad, but we can have a look at the highlights from previous series on ITV on the clip below.
Interview with Bradley and Barney Walsh. So, start off by telling us more about your eventful trip this time?
BARNEY SAYS: "Dad notoriously doesn't like height challenges, so I thought I'd throw one in the first episode – free-falling off the top of Croatia's Hajduk Split football stadium in a swing harness.
BRADLEY SAYS: "It wasn't my finest moment. There was a lot of bleeping! I thought I was going to see some football or have a kickaround on the pitch. I should've known!
BARNEY: "I think you're getting better at these height challenges. Do you remember the first sky-dive we did for the first series?
BRADLEY: "Sadly, yes! I hated every second and swore I'd never do it again."
BARNEY: "But the adrenaline, the excitement – humans aren't meant to fly but we've figured out a way to experience it."
Tell us about going from free-falling to free diving down to a shipwreck on the Croatian island of Vis?
BRADLEY: "I hated that, too! We went down with a world champion free diver who could hold his breath for 10 minutes – I can't manage 30 seconds!"
BARNEY: "That was an amazing sense of achievement. I loved exploring the wreck."
BRADLEY: "I felt claustrophobic. It reminded me of scuba diving with Barney years ago and not being able to leave the colourful reef and dive down into deep, black sea. There might be a giant squid down there! Or Johnny Depp as Captain Jack Sparrow. It makes me sound a bit of a wimp, doesn't it?"
BARNEY: "It's about trying something new, Dad!"
BRADLEY: "Couldn't we have gone down in a submarine? With a cup of tea?"
BARNEY: "We'll do that next series!"
What scared you both the most on this adventure?
BRADLEY: "We ride Europe's largest wooden roller-coaster in Poland. I love them normally but this was horrific.:
BARNEY: "For me, it was riding a skeleton [a sled on which you lie face down and head-first] down the bobsleigh track in Norway. I didn't expect it to be so…"
BRADLEY: "…violent?"
BARNEY: "Yes! You're basically in a tube, hurtling down a track at over 100km an hour, with each turn feeling like a ton of bricks is falling on you."
BRADLEY: "That was frightening. I came out with a severe headache, backache and neck ache."
Is there anything you did enjoy while making this series, Bradley?
BRADLEY: "Oh yeah, the week where we visit a museum in Hungary dedicated to the great escape artist Harry Houdini. I love history and Houdini so I was thrilled to try a bit of escapology myself. I try to get out of a straitjacket, but there's a twist – I don't want to give too much away, you'll have to watch. I really enjoyed it and felt I achieved something."
Where do you hope to visit for your next adventure in 'Bradley and Barney Walsh: Breaking Dad' season 5?
BARNEY: "Australia and New Zealand, if the travel situation allows it. I much prefer warm weather to cold!"
BRADLEY: "I'd love to go there, too – without the ludicrous challenges!"
* Interview with Rebecca Fletcher
'Breaking Dad' season 4 episode guide
In the first episode of season 4, there's a dilemma for Barney Walsh. What do you do if your father hates heights and all things dangerous? Get him to free-fall off the top of a football stadium, of course! Barney is determined to push showbiz dad Bradley to his limit in the fourth series of this gem of a show. Bombing through Europe in their trusty RV, thrill-seeking Barney kicks things off in Croatia by making Bradley throw himself off the Hajduk Split football stadium – cue a lot of bleeping from Dad! An aqua bikes race and free-dive down to a shipwreck prove equally unappealing for Bradley - but amusing for viewers!
In episode 2, having left Croatia behind, this week the father and son travellers say hello to Hungary, where the lads take to the open waters of Lake Balaton for a spot of high-speed catamaran sailing with an Olympic crew (see clip below), before warming up in the RV with some world-famous Goulash. They also have a go at champion skipping in the pretty town of Szombathely. The pair finish their time in Hungary's capital Budapest, where Barney's arranged to meet a world-famous escapologist. and then Bradley agrees to be hung upside down by his ankles, 150-feet in the air, by a rope that's on fire, while he attempts to escape from a straight jacket like the famous Hungarian escapologist Harry Houdini. 'The Great Walshini' knows no fear and makes this genuinely scary trick look remarkably easy.
By episode 3 Bradley and Barney are in Poland. First on the agenda is a spot of sightseeing in Krakow, with Barney behind the wheel. Then, after taking his dad for a spin around the city streets, the boys don wetsuits and head to a freezing cold lake to try out water blobbing. Sitting on the edge of a giant inflatable in a lake as two burly blokes jump on the other end, sending you flying into the air, is a popular activity. Next up, they come face to face with man's best friend as Brad gets chased by an attack dog. The pair also rides the biggest wooden rollercoaster in the world, an angry protection dog chases Bradley. Barney treats his dad to an exclusive performance with the Polish National Radio Symphony Orchestra in honour of Poland's most famous classical composer, Chopin.
In episode 4 the pair enter Denmark and after some laughter yoga, a trip up a wind turbine and a game of handball, Barney makes his dad climb the tallest indoor rope course in the world. Fans of the show will know Bradley hates heights, and yet he does it anyway!
On to episode 5 there's ABBA blaring out the RV and some flat-pack furniture in the back, to indicate they're in Sweden. 'It's beautiful but unnecessarily cold,' is Bradley's first impression of the country, but he's soon enjoying himself when Barney takes him to try curling with the gold medallist women's team (see clip below). The highlight of the trip however is watching the pair singing on stage with an ABBA tribute band!
Bradley Walsh is going to need a proper sit down and a rest when his 3,000-mile road trip around Europe comes to a bone-shaking end in episode 6. After being subjected to a ridiculous number of extreme challenges by his daredevil son, Barney, the duo finish this fourth series in style, motoring to the icy tundras of the Arctic Circle. As always, Bradley's less than impressed with the activities Barney has planned, and after seeing the terrifying bobsleigh ride and 20ft freezing surfing waves they endure, we can see his point. We shall miss the banter, boys! Fingers crossed for another series…
* Keeping Up With The Aristocrats
* Best BBC documentaries
* Best Channel 4 documentaries
* Best Channel 5 documentaries on My 5
I'm a huge fan of television so I really have found the perfect job, as I've been writing about TV shows, films and interviewing major television, film and sports stars for over 25 years. I'm currently TV Content Director on What's On TV, TV Times, TV and Satellite Week magazines plus Whattowatch.com. I previously worked on Woman and Woman's Own in the 1990s. Outside of work I swim every morning, support Charlton Athletic football club and get nostalgic about TV shows Cagney & Lacey, I Claudius, Dallas and Tenko. I'm totally on top of everything good coming up too.
Get the latest updates, reviews and unmissable series to watch and more!
Thank you for signing up to Whattowatch. You will receive a verification email shortly.
There was a problem. Please refresh the page and try again.