Life After Life — release date, cast interview, plot, trailer, first looks and all you need to know
Life After Life is a BBC2 drama starring Thomasin McKenzie which brings to life the famous novel by Kate Atkinson.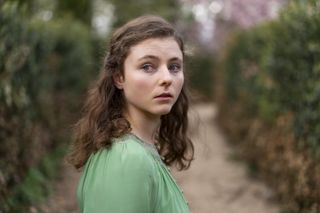 (Image credit: BBC)
Life After Life arrives on BBC2 and poses the question to its viewers 'if you could live life time and time again, would you ever get it right?' Power of The Dog actress Thomasin McKenzie play Ursula Todd, a woman who is born numerous times. Set against the backdrop of two World Wars, and based on the bestselling novel by Kate Atkinson (opens in new tab), the BBC2 adaptation shows Ursula living and dying in numerous circumstances. But what is it she needs to stay alive for?
"I'm drawn to Life After Life because it makes me laugh, cry, clench my fists in anger or whoop with empowerment,' says Thomasin McKenzie. "Bash (writer Bash Doran) has done a stunning job at adapting Kate Atkinson's masterpiece."
The drama also stars Fleabag's Sian Clifford and James McArdle as her original parents Sylvie and Hugh. Also look out for Jessica Hynes and Jessica Brown Findlay among the cast.
Here's everything you need to know about BBC2 drama Life After Life...
Life After Life release date
Life After Life is a four-part drama that arrives on BBC2 on Tuesday, April 19 at 9pm, when all four episodes will also be available on BBCiPlayer.
We'll update on when we hear if there's a worldwide or US air date.
Is there a Life After Life trailer?
Yes the BBC has released a trailer for Life After Life, so you can see how the story weaves through time and the main characters in action. Oh and you can see also how lovely this period drama looks. The drama was mostly filmed in and around Basingstoke, Hampshire, UK.
Take a peek at the trailer below...
Life After Life plot
Life After Life follows Ursula Todd (Thomasin McKenzie) who is born to Sylvie and Hugh (Sian Clifford and James McArdle) on February 11 1910 but dies before she draws her first breath. However, on the same night, Ursula is reborn and this time she survives. Time and time again she dies but is born again into a new life, but what does it all mean?
The drama follows Ursula as she navigates each life during a critical time in our history, which encompasses two world wars and an encounter with Hitler. Her journey probes whether a perfect life can ever be lived and if the course of history can truly be changed. Ursula's apparently infinite amount of lives give her the power to save the world but even if she can, will she?
Life After Life cast — Thomasin McKenzie, Sian Clifford and James McArdle
Meet the lead cast in Life After Life...
Thomasin McKenzie as Ursula
Kiwi actress Thomasin played Lola in last year's hit movie The Power of the Dog, which starred Benedict Cumberbatch and Kirsten Dunst. Before that she starred as Elsa, a Jewish girl forced to hide from the Nazis, in the powerful comedy Jojo Rabbit. Thomasin has also had roles in Last Night In Soho, Old and Leave No Trace. Scroll below for an interview with Thomasin.
Sian Clifford as Sylvie Todd
Sian is best known for playing Phoebe Waller-Bridge's sister Claire in the popular coemdy series Fleabag. She also appeared in the series Vanity Fair and Two Weeks to Live. She played fraudster Diana Ingram in ITV's Quiz, which was about the couple who tried to cheat their way to winning £1 million on the quiz show Who Wants To Be a Millionaire? Sian has also starred in Inside No.9 and His Dark Materials.
Sian says: "The relationship between Ursula and Sylvie is so beautifully written by Kate, and by Bash Doran, our wonderful screenwriter. Because it's so complex, I really believe it as a mother/daughter relationship. What's beautiful about this story is that it has different outcomes depending on the choices that either one of them make. It shifts their identities sometimes, so there are versions of Sylvie that are completely different in certain lives and that is absolutely what fascinated me about this character. Plus to examine who we become depending on decisions that we make, but also that other people make."
James McArdle as Hugh Todd
James played Deacon Mark Burton in the series Mare of Easttown, alongside Kate Winslet. He also starred as Niv Lek in Star Wars: Episode VII – The Force Awakens and as The Earl of Moray in Mary Queen of Scots. James has also starred in Love & Marriage, New Worlds, Man In An Orange Shirt and Ammonite, the movie about fossil hunter Mary Anning.
James says: "Hugh is Ursula's father and we meet him at 29 but goes through to 60. I was horrified that they were more concerned with making me look twenty nine than sixty! Hugh ends up having five children. He gets called up for war service in World War One and it really changes him. In a weird way I think he's one of the characters that deals with the changes of life better because all he cares about is his family due to the war. For Hugh, his resolve becomes much more about keeping this family together and it's all he cares about. He's a selfless, gracious man and there are lot of Todd's!"
Who else is starring in Life After Life?
In Life After Life look out for Years and Years star Jessica Hynes (also W1A, The Witchfinder) who will play Mrs Glover while Jessica Brown Findlay (Brave New World, Downton Abbey) will also star as Izzie. They are joined by Patsy Ferran (Black Narcissus) as Pamela Todd, Harry Michell (Yesterday) and Maurice Todd, Laurie Kynaston (The Trouble With Maggie Cole) as Jimmy, Joshua Hill (Small Axe) as Derek Oliphant, Maria Laird (Derry Girls) as Bridget, Sean Delaney (Killing Eve) as Teddy Todd and Ron Cook as Dr Fellowes.
Thomasin McKenzie on playing Ursula in Life After Life
What's your take on Life After Life?
"It's hard to explain but Life After Life is basically centered around reincarnation and we follow a young girl called Ursula from the moment she's born up until the moment she dies. She goes through life multiple times and we see how each of her lives changes depending on specific events or moments in her life, and the decisions she makes based off her instincts."
What was it about the book that struck you and why do you think this story connects with people?
"I learned when we were filming that a lot of people have read the book and really love it. So it's a good question as to why so many people have responded so strongly to it. I think it's the idea of reincarnation in general as it's interesting – the idea that it opens up the possibility of reliving or fixing past mistakes or living your happiest moments again. The reason I responded to it so strongly is that I'm always someone who lives in the past; constantly regretting things and cringing at things I've done and wish I hadn't!"
There would have been days of filming where you would have had to go through every emotion; joy, trauma... What was that like for you as an actor?
"It's a really tough thing as some days I would turn up on set and not realize how intense some of the scenes would be. I didn't take into account how much that would affect the other scenes we were doing that day that might be lighter or from one of Ursula's different lives. It was quite hard, both mentally and physically, to go through so much and so many emotions in one day. You just don't have as much time to recover from it with such a crazy schedule."
How involved do you get as an actor in the look of your characters?
"There were lots and lots of looks – the hair and make-up department play a huge part in creating the character and Sinead [Kidao] and Konnie [Daniels] did such a wonderful job. I wouldn't be able to play Ursula in my own clothing, my own accent and without a 1940's fancy sculptural hairdo. Sinead was so generous and collaborative and asked my opinion on if I thought Ursula would like to wear something. I was really interested in the color palette for each of the characters; for Ursula it was green and maroon-red. Konnie has incredible knowledge of the period; it was really cool to see how they worked."
Even though it's a period piece, why do you think it's still so contemporary and relevant?
"That's a good question; you see a theme from the pressure of society that particularly weighed down Sylvie and Ursula. I think you still kind of see that societal pressure coming through these days as well."
Do you think Ursula is a modern woman? Is she born out of her time?
"I think in some of her lives she is and in some lives, she isn't. In some of her lives, she really struggles with the idea of what it is to be a mum and what it is to be a wife and whether that's something she wants or not. Back then, that was something that was expected and maybe if she was born now, it wouldn't have been (although still is) as much pressure for that to have been her life."
Life After Life – all about the novel
Life After Life (opens in new tab) (opens in new tab)by Kate Atkinson was published in 2013 and is the first of two novels about the Todd family. The second, A God In Ruins (opens in new tab), was released in 2015. Life After Life won numerous accolades, including Waterstone's Book of the Year, and was shortlisted for the 2013 Bailey's Women's Prize for Fiction. Kate's debut novel was Behind the Scenes at the Museum (opens in new tab) in 1995 and she's since written numerous works including Human Croquet, Emotional Weird, Case Histories (opens in new tab) and One Good Turn. She also wrote the treatment for the TV series The Catch.
TV Content Director on TV Times, What's On TV and TV & Satellite Week
I'm a huge fan of television so I really have found the perfect job, as I've been writing about TV shows, films and interviewing major television, film and sports stars for over 25 years. I'm currently TV Content Director on What's On TV, TV Times, TV and Satellite Week magazines plus Whattowatch.com. I previously worked on Woman and Woman's Own in the 1990s. Outside of work I swim every morning, support Charlton Athletic football club and get nostalgic about TV shows Cagney & Lacey, I Claudius, Dallas and Tenko. I'm totally on top of everything good coming up too.
Thank you for signing up to Whattowatch. You will receive a verification email shortly.
There was a problem. Please refresh the page and try again.