Strike — Troubled Blood: release date, cast, plot, trailer and everything we know
Strike — Troubled Blood sees Tom Burke and Holliday Grainger are back on the case.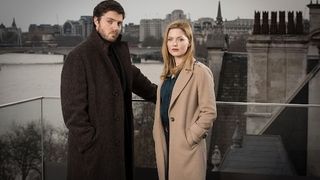 (Image credit: BBC)
Strike — Troubled Blood sees The Musketeers' Tom Burke and The Capture's Holliday Grainger return as dogged private detectives Cormoran Strike and Robin Ellacott.
The latest outing for the BBC1 and HBO Max crime drama is based on the best-selling 2020 novel, which is the fifth in JK Rowling's Strike series written under the pen name of Robert Galbraith.
Strike season 5 sees Strike and Robin tackle a twisty cold case and could the pair finally get together? "They're destined for one another but if they get together too soon, it would never work because they've still got a lot to deal with," teases Holliday.
Here's what we know about Strike — Troubled Blood.
Strike – Troubled Blood release date
Strike — Troubled Blood began on Sunday 11 December and continues on Sunday 18 December on BBC One at 9 pm and the final two episodes will air the following week.
All four episodes of Strike — Troubled Blood can be found on BBC iPlayer along with the previous series. It will air at a later date on HBO Max in the US, where the series is known as CB Strike and it's distributed internationally by Warner Bros.
How many episodes will air of Strike — Troubled Blood?
This season the series will consist of four hour-long episodes.
Strike – Troubled Blood plot
The series begins with Strike on holiday in Cornwall, where he is visiting his family, but he is stunned when a woman asks him to help search for her mother, Margot Bamborough, who disappeared in 1974.
Despite Strike and Robin being busy at their detective agency with a range of taxing cases, they take on the cold case investigation. In the process, they come across intriguing links to tarot cards, a notorious serial killer and some very shady suspects…
"Strike is approached by Anna Phipps [A Very British Scandal's Sophie Ward], whose mother Margot went missing many years before and the case has never been solved. There are a lot of suspicious people lurking in the shadows and Strike and Robin end up going to a lot of different places, following their noses," Burke tells What to Watch.
"Yes, this is their first cold case. I think they've taken it on for the personal story of Anna losing her mum and wanting to do right by her. They feel close to Margot by the end and want to know what's happened to her," adds Grainger. "It's incredibly difficult. Neither of them is expecting to actually solve the case. So many people involved have disappeared themselves or died and many lines of enquiry are dead ends — literally. But Robin has this strong sense of anger about injustice to women and so this case really speaks to her and she wants to get to the bottom of it."
Which cast members are returning for Strike – Troubled Blood?
Along with Tom Burke and Holliday Grainger, the new series will also see Kerr Logan (Showtrial) back as Robin's ex, Matthew, from whom she is in the process of getting a divorce. She is also facing some unwanted attention and is trying to sort out her feelings for Strike.
"Part of the reason we love Robin and Strike is that idea of will they-won't they," says Grainger. "They'd be so well suited. But there's more at stake for them if they make the first move now, it becomes harder for it to happen because of the business and their love for each other as partners and friends. There's so much on the line, it almost seems impossible. They're destined for one another but if they get together too soon it'd never work because they've still got a lot to deal with."
The Bastard Executioner's Sarah Sweeney also returns, as Strike's sister Lucy, along with Game of Thrones' Ben Crompton as his friend Shanker and The Swarm's Jack Greenlees as business associate Sam Barclay.
Who guest stars?
A host of well-known faces feature in the new series, including Linda Bassett (Call the Midwife) as Strike's ailing aunt Joan, while Coronation Street's Ian Redford is back as his uncle Ted.
"His aunt is ill and it's about their relationship and recognising that she was a mother to him," reveals Burke. "Working with Linda and Ian was wonderful. I've known them for years, which made it even more meaningful. They were great and they packed in so much emotion."
Kenneth Cranham (Hatton Garden) also stars as serial killer Dennis Creed, along with Cherie Lunghi (Unforgotten) and Robin Askwith (The Madame Blanc Mysteries).
The Take's Kierston Wareing returns in flashback as Strike's mum, and Tin Star's Abigail Lawrie will also guest star as Margot alongside Dead Ringers' Phil Cornwell, The Comic Strip's Daniel Peacock, Unforgotten's Ruth Sheen, Avenue 5's Syrus Lowe, A Boy Called Christmas' Carol MacReady, Blasts from the Past's Genevieve Hulme-Beaman and Lost's Fionnula Flanagan is Margot's friend Oona.
Meanwhile, Tom Burke's real-life mum, actor Anna Calder-Marshall (The Third Day), also appears.
"I was ill that day so it was nice doing scenes with my mum because there was an extra bit of sympathy!" smiles Burke. "I've never worked with her professionally before, but we once did a local fundraiser thing - with Linda Bassett - where we did Victoria Wood sketches."
"It's just an amazing cast and a lot of the series is Strike and Robin interviewing people," adds Grainger. "To watch all these well-respected actors turn up and do their piece was such a privilege."
Is there a trailer?
Watch the trailer and count down to the UK release of the #TroubledBlood TV series!Join Robin and Strike as they immerse themselves in a missing person case that's decades old, yet can still prove deadly.Starts at 9pm on 11th December on @BBCOne #RobertGalbraith #Strike pic.twitter.com/gAmVCpynLkNovember 28, 2022
Yes, the teaser shows Anna (Sophie Ward) approaching Strike with the case. There are flashbacks to Margot in the 1970s as it is revealed that she is technically still a missing person. Margot's friend Oona (Fionnula Flanagan) says the day she disappeared, Margot rang her and said she wanted to talk about something urgent. There are also shots of serial killer Dennis Creed (Kenneth Cranham), while Robin says that she doesn't care if it has been half a century or half an hour, 'that man' has to pay for what he did to Margot..
Related stories
Get the What to Watch Newsletter
The latest updates, reviews and unmissable series to watch and more!
Caren has been a journalist specializing in TV for almost two decades and is a Senior Features Writer for TV Times, TV & Satellite Week and What's On TV magazines and she also writes for What to Watch.
Over the years, she has spent many a day in a muddy field or an on-set catering bus chatting to numerous stars on location including the likes of Olivia Colman, David Tennant, Suranne Jones, Jamie Dornan, Dame Judi Dench and Sir Derek Jacobi as well as Hollywood actors such as Glenn Close and Kiefer Sutherland.
Caren will happily sit down and watch any kind of telly (well, maybe not sci-fi!), but she particularly loves period dramas like Call the Midwife, Downton Abbey and The Crown and she's also a big fan of juicy crime thrillers from Line of Duty to Poirot.
In her spare time, Caren enjoys going to the cinema and theatre or curling up with a good book.