The best Peacock movies
Peacock has plenty of titles to pick from for your movie night.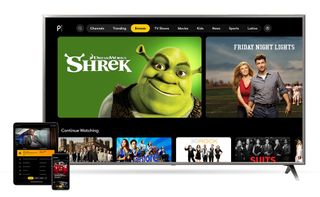 (Image credit: Peacock)
As much as streaming services like to promote their new originals (both movies and TV show), a key draw for all of them is the library of the titles that they have at their fingertips. Peacock has hundreds of classic movies available for fans to watch (on its free version), plus it will be the exclusive streaming home for new Universal movies after theater runs starting in 2022.
Peacock's full offering includes classic TV shows, current NBC programming, Peacock originals and live sports action, but here we're going to share the best movies on Peacock right now.
Back to the Future franchise
Even if the future shown to us in the Back to the Future franchise is now the past, that hasn't stopped these classic films from being any less enjoyable. The time-traveling adventures of Marty (Michael J. Fox) and Doc Brown (Christopher Lloyd) are all-time classics, even if John Mulaney has effectively poked fun at some of the weirder elements of the story.
The first Back to the Future is the undisputed best in the Robert Zemeckis-directed trilogy, but there's plenty to love with Back to the Future Part II and Part III, all of which can be watched right now on Peacock (not a bad rainy day plan).
Being John Malkovich (1999)
Most people have dreamed what it would be like to be a celebrity, but leave it to Charlie Kauffman to take it to such an extreme as Being John Malkovich. Paired with director Spike Jonze, Kauffman crafted one of the most original and delightfully odd films ever.
Being John Malkovich tells the story of a puppeteer who inadvertently discovers a portal that puts him in the body of actor John Malkovich. At first he's just along for the ride, but soon he, his wife and the woman they both love are able to take control of Malkovich's life for their own personal gain.
John Cusack, Cameron Diaz, Catherine Keener and, of course, John Malkovich, star in the film that announced both Jonze and Kauffman as big name filmmakers (they'd both receive Oscar noms) and remains among their best work.
The Big Lebowski (1998)
Because of the cult status that The Big Lebowski has today, it's hard to imagine that the film wasn't a success upon its initial release, but thank goodness audiences found it. The Coen brothers' comedy always ranks high among their fans' favorite outputs, thanks to their ever unique sensibilities and a classic performance from Jeff Bridges as The Dude.
The plot is essentially second fiddle to the character interactions between The Dude, his bowling buddies Walter and Donny, as well as other memorable characters including Maude Lebowski, Jesus Quintana, Brandt and more. These are the things that, like The Dude's rug, really tie the movie together.
The Bride of Frankenstein (1935)
1931's Frankenstein is considered the granddaddy of the horror genre. I guess that makes The Bride of Frankenstein the grandmother (maybe, who knows how film genealogy works).
The sequel to the 1931 original brought the whole crew back, including director James Whale, Colin Clive as Henry Frankenstein and, of course, Boris Karloff as the Monster, while also introducing Elsa Lanchester as the titular bride. There's a reasonable debate as to whether Frankenstein or The Bride of Frankenstein is the better movie. Each are classics in their own right, though.
Peacock is definitely playing up the spooky nature of October, in addition to The Bride of Frankenstein it has 1931's Dracula, A Nightmare on Elm Street, An American Werewolf in London, It Follows and more horror films for fans to delight in.
The Cabin in the Woods (2012)
We've all seen the story of a group of teens going into the woods and getting involved in some evil stuff. The fun thing with The Cabin in the Woods though is that writer/director Drew Goddard (with Joss Whedon getting a co-writing credit) knows that and uses audiences preconceived notions for a satirical and incredibly entertaining deconstruction of the horror genre.
The movie sees five friends (which included a pre-Thor Chris Hemsworth) head off for a weekend at the titular cabin. What they don't know is that a shadowy organization is behind the horror that they are unwittingly about to unleash. There's also a great cameo that I won't spoil here.
The Cabin in the Woods is a fantastic blend of humor and some legitimate scares, mixing for an all-around fun watch.
E.T. the Extra Terrestrial (1982)
Steven Spielberg's filmography is stacked with classic films like Raiders of the Lost Ark, Jaws, Saving Private Ryan and more, but it's E.T. that features his most iconic shot and may actually be the dark horse contender for the prolific director's best film.
E.T. is a lovely story of a young boy struggling with his parent's divorce and the lost alien that he befriends and forms a deep connection with. It's filled with movie magic, both in the behind-the-scenes making and the end result on the screen.
E.T. may be labeled as a kid's movie, but when you're watching it you can't help but find the joy that it emits no matter what your age.
Fast Five (2011)
The Fast and Furious franchise revved its engines once again this year with the release of F9, showing that fans still love to take a ride with Vin Diesel and the rest of the Fast family. But when we're talking about the best of the series, Fast Five has to be in the conversation, and quite possibly at the very top.
Fast Five saw Dominic Torretto and Brian O'Conner (Paul Walker) officially create the team that the franchise has continued with ever since, including Jordana Brewster, Tyrese Gibson, Ludacris, Sung Kang, Gal Gadot, Tego Calderon and Don Omar. It also introduced Dwayne Johnson's character Hobbs, who while not really part of the main crew anymore thanks to a beef with Diesel, is an important part of the Fast franchise with his Hobbs & Shaw spinoff.
The Brazil location, the insane climactic bank heist and the tone that became the series signature are all highlights of Fast Five.
Field of Dreams (1989)
Baseball has long been considered America's pastime, and the movies have come back to the sport time and time again, with few as iconic as Field of Dreams.
The film stars Kevin Costner as an Iowa farmer who hears a voice to tell him to build a baseball stadium in his corn field. He does, and one day the ghost of Shoeless Joe Jackson and other deceased ball players find their way to the field.
Field of Dreams has entered into the collective subconscious of American audiences. We can point to recent MLB game at a Field of Dreams-inspired stadium as to the fondness that fans have for the film.
Peacock is doubling down on that sentiment, as it is currently developing a Field of Dreams original series.
Friday Night Lights (2004)
Before there was the popular NBC series Friday Night Lights, there was the 2004 movie Friday Night Lights; and before that there was the best-selling book "Friday Night Lights," but I digress. Based on said book, the movie of Friday Night Lights tells the true story of the Permian Panthers as they seek to win the state title for their football-crazed town.
Billy Bob Thornton leads the film along with Derek Luke, Lucas Black, Garrett Hedlund, Jay Hernandez, Lee Jackson, Lee Thompson Young, Tim McGraw and Connie Britton (while she plays the coach's wife in both the movie and TV show, they are not the same character).
The TV show may be the more popular iteration of the story at this point, but Friday Night Lives the movie is a great film and without it we never would have gotten the TV show.
Inside Man (2006)
Spike Lee does a crime capper and it is awesome. Inside Man is an intricate and entertaining thriller that stars Denzel Washington, Clive Owen, Jodie Foster, Chiwetel Ejiofor, Willem Dafoe and Christopher Plummer.
When a brilliant criminal takes over a bank and holds people hostage, NYPD Detective Keith Frazier is put in charge of the investigation and must untangle the web to find out what's really behind this heist.
Washington is of course as good as ever, and Lee infuses the film with plenty of style to make it his own. Even if you've seen it before, it's a well-crafted, endlessly rewatchable film.
John Wick franchise
John Wick snuck up on audiences when the first film came out. But like Alfie Allen did in that movie, we all learned pretty quickly that it's best not to underestimate John Wick, or Keanu Reeves for that matter.
Reeves stars as the legendary assassin who thought he had escaped his past of killing when the dog that his late wife got him is killed by a young gangster, leading him down a path of revenge that has spiraled into two action-packed sequels and at least two more on the way (plus a potential spinoff TV series).
The action in the John Wick franchise is some of the best being put to film right now.
Knocked Up (2007)
The 40-Year-Old Virgin put Judd Apatow on the map as a comedy director, but Knocked Up affirmed his position as one of the big names of the genre. Seth Rogen and Katherine Heigl star two strangers who hook up for a one-night stand that results in a pregnancy and forces them to find out if there's any hope for a relationship now that they are forced together.
Knocked Up features nearly every famous comedic actor of the lost 15 years. In addition to Rogen there is Paul Rudd, Leslie Mann, Jonah Hill, Jason Segel, Jay Baruchel, Martin Starr, Kristen Wiig, Bill Hader, Charlyne Yi, Alan Tudyk, Ken Jeong, Craig Robinson and Adam Scott, plus some fun cameos.
While definitely right in line with the bro-style, gross humor that is associated with many of Apatow's films, Knocked Up also has arguably the most heart out of any of his filmography.
Meet the Parents (2000)
Who knew we wanted the pairing of Robert De Niro and Ben Stiller so badly until we saw Meet the Parents. One of the funniest films from the early 2000s, the film sees Stiller desperately seeking the approval of his girlfriend's father so that he can ask her to marry him. Of course, just about everything that can go wrong does go wrong.
Meet the Parents spawned a franchise that includes Meet the Fockers and Little Fockers (both also on Peacock), but the original forever stands as the best in the series, as well as being some of the best comedic work from Stiller and De Niro.
Men in Black (1997)
There was no bigger movie star in the late 1990s than Will Smith, and Men in Black is one of his best films from that era. It not only showcased Smith's comedic talents (as well as his rapping career with the film's theme song), but the film paired its young, charismatic star with the gruff Agent K, played by Tommy Lee Jones, forming an iconic screen duo.
In case you're among the few people that haven't seen Men in Black or any of its sequels, the film follows a new recruit to a secret government agency that monitors extraterrestrial interactions on Earth.
There have been sequels and reboots to the franchise, but keep it simple and stick with the original.
My Cousin Vinny (1992)
Films set in a courtroom have a long and proud history on the big screen, and one that should definitely be on your watchlist is the courtroom comedy My Cousin Vinny.
Joe Pesci stars as a loudmouth lawyer from New York with no trial experience who travels down to Alabama to help his cousin and his friend who are wrongly being charged with murder. Antics ensue as Pesci's Vinny uses brash tactics in court, has arguments with his fiancee (played by Marisa Tomei) and earns the ire of the straight-laced judge presiding over the case.
My Cousin Vinny is hilarious, with a different but no less great performance from Pesci and an Oscar-winning comedic turn from Tomei. It's also one of few notable non Karate Kid/Cobra Kai roles for Ralph Macchio.
Out of Sight (1998)
Danny Ocean is the first thief that people associate with George Clooney, but a few years before he was robbing casinos in Las Vegas, Clooney teamed up with Steven Soderbergh for another fantastic crime film, Out of Sight.
The heist is fun and there are some great turns from Ving Rhames, Steve Zahn, Albert Brooks and Don Cheadle in the film, but what makes Out of Sight such a good film is the chemistry between Clooney's crook and Jennifer Lopez's U.S. Marshal, an all-time electric pairing.
Short Term 12 (2013)
Before director Destin Daniel Cretton entered the MCU with Shang-Chi and the Legend of the Ten Rings, he burst onto the scene with his powerful indie drama Short Term 12, featuring a breakthrough performance from another future Marvel member, Brie Larson.
Set in a residential treatment facility for young teenagers, a supervising staff member tries to navigate the complexities of the kids' lives while dealing with her own deeper issues and insecurities.
Larson grabbed much of the attention (and should have landed an Oscar-nod, in my opinion), but the ensemble is filled with at-the-time new talent, including LaKeith Stanfield, John Gallagher Jr., Rami Malek, Kaitlyn Dever and Stephanie Beatriz.
The Sixth Sense (1999)
M. Night Shyamalan was back in theaters this year with Old, but he is still best known for making The Sixth Sense and giving us perhaps the most famous twist in film history short of The Empire Strikes Back.
In case you haven't seen the film or had the twist spoiled for you yet, The Sixth Sense centers on a young boy (Halely Joel Osment) who can see dead people and the child psychiatrist (Bruce Willis) who tries to help him.
Many people try to break down Shyamalan's movies to just the twist, including with The Sixth Sense, but the film is a rich work from beginning to end. You'd be satisfied without the twist, it just leaves you floored when you see it for the first time.
Spartacus (1960)
Stanley Kubrick is one of the all-time great directors. While Spartacus is more of a studio-driven (and Kirk Douglas-driven) project than some of Kubrick's later work, his touch undoubtedly helped make it the classic epic it is.
Telling the story of the Roman slave/gladiator Spartacus who launched a rebellion that nearly defeated the empire, Kubrick infuses a then 1960s studio epic with some phenomenal and all-time movie moments, including lingering on Douglas' Spartacus and his opponent as they hear another gladiator fight going on in the arena and the iconic "I am Spartacus" moment.
Kubrick would have more idiosyncratic works in his career, but Spartacus is still a great entry from the director.
Wedding Crashers (2005)
Vince Vaughn and Owen Wilson lead this classic comedy of two friends who like to spend their time crashing weddings and use the feeling of love at the events to get women into bed. Things change however when they crash a wedding and Wilson's character begins to fall in love with one of the bridesmaids.
Wedding Crashers remains as funny as the first time you watched it. Vaughn and Wilson are great together, and the supporting cast of Rachel McAdams, Isla Fisher, Christopher Walken, Bradley Cooper, Jane Seymour and more are all hilarious. Not to mention an all-time great cameo from Will Ferrell.
There's long been talk of a sequel to Wedding Crashers. If it ever comes to pass, it'll have a high bar to meet.
The Wedding Singer (1998)
Adam Sandler films are practically a genre unto themselves — his most recent Netflix outings for sure. But while Billy Madison, Happy Gilmore and The Waterboy may be his most famous films, The Wedding Singer is certainly one of his most underrated and very well could be his best.
Sandler stars as a popular wedding singer who has his heart broken when his fiancee leaves him at the altar. He is able to find some joy again as he sparks a relationship with a young waitress at the banquet hall he performs at, but who is engaged, albeit to a man she is unaware is a total slimeball.
The Wedding Singer both pokes fun at many of the cultural touchstones of the '80s while also being a showcase for the decade's music. It's a funny and sweet movie that you'll fall in love with pretty easily.
X-Men (2000)
X-Men movies have lost their caché in recent years thanks to multiple subpar efforts, but the early entries of the franchise are still some of the best superhero movies out there, including the team's first big screen appearance, the simply titled X-Men.
The casting of Wolverine (Hugh Jackman), Professor X (Patrick Stewart), Magneto (Ian McKellen), Rogue (Anna Paquin), Jean Grey (Famke Janssen) Cyclops (James Marsden) and Storm (Halle Berry, even with the accent) were about as close to perfect as you could get. The film also did a great job of capturing the themes of prejudice that the comics so often hit on.
Undoubtedly at one point or another Marvel will put the X-Men into the MCU, but we should always remember this original team and film.
Get the What to Watch Newsletter
The latest updates, reviews and unmissable series to watch and more!
Michael Balderston is a DC-based entertainment and assistant managing editor for What to Watch, who has previously written about the TV and movies with TV Technology, Awards Circuit and regional publications. Spending most of his time watching new movies at the theater or classics on TCM, some of Michael's favorite movies include Casablanca, Moulin Rouge!, Silence of the Lambs, Children of Men, One Flew Over the Cuckoos Nest and Star Wars. On the TV side he enjoys Only Murders in the Building, Yellowstone, The Boys, Game of Thrones and is always up for a Seinfeld rerun. Follow on Letterboxd.