Tiny Beautiful Things: release date, cast, trailer for the new Kathryn Hahn miniseries
Kathryn Hahn dazzles as an advice columnist trying to keep her life together.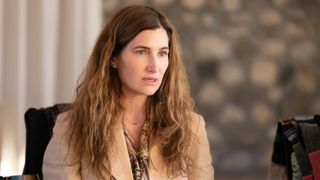 (Image credit: Jessica Brooks/Hulu)
Kathryn Hahn dazzled fans with her performance as Agatha Harkness in WandaVision and inspired an upcoming Agatha Harkness spinoff. Now she's set to warm hearts with her dazzling performance in Tiny Beautiful Things on Hulu.
Based on the book Tiny Beautiful Things: Advice on Love and Life from Dear Sugar by Cheryl Strayed, the story follows a woman who is losing control of her own life but finds a way to rally back by penning an advice column.
The book is a collection of essays from Strayed's time as an advice columnist for Rumpus, where she gave people advice through her Dear Sugar column.
Here's everything we know about Tiny Beautiful Things.
Tiny Beautiful Things release date
All episodes of Tiny Beautiful Things premiere on Hulu on April 7.
As of this writing there's no information about a UK release date but as soon as we have any information we'll have it for you right here.
Tiny Beautiful Things cast
Tiny Beautiful Things stars Kathryn Hahn, Sarah Pidgeon, Quentin Plair and Tanzyn Crawford. Owen Painter, Merritt Wever, Elizabeth Hinkler and Michaela Watkins guest star.
In addition to her role in WandaVision, Kathryn Hahn recently starred in Glass Onion. She also appeared in Transparent, Mrs. Fletcher and I Know This Much is True.
Tiny Beautiful Things plot
Here's the official synopsis of Tiny Beautiful Things from Hulu:
"Based on the best-selling collection by Cheryl Strayed, Tiny Beautiful Things follows Clare (Kathryn Hahn) a writer who becomes a revered advice columnist while her own life is falling apart.
"When we first meet Clare, her marriage to her husband Danny is barely limping along; her teenage daughter, Rae, is pushing her away; and her once-promising writing career is non-existent. So when an old writing pal asks her to take over as the advice columnist Dear Sugar, she thinks she has no business giving anyone advice. After reluctantly taking on the mantle of Sugar however, Clare's life unfurls in a complex fabric of memory, exploring her most pivotal moments from childhood through present day, and excavating the beauty, struggle, and humor in her unhealed wounds. Through Sugar, Clare forms a salve for her readers — and for herself — to show us that we are not beyond rescue, that our stories can ultimately save us. And, perhaps, bring us back home."
Tiny Beautiful Things trailer
The trailer for Tiny Beautiful Things paints a heartwarming picture of Kathryn Hahn's Clare, who is struggling in her marriage and in her relationship with her daughter. When the opportunity to be the mysterious author behind an advice column presents itself, it might be exactly what she needed.
Take a look at the trailer below:
How to watch Tiny Beautiful Things
Tiny Beautiful Things is a Hulu original series. If you need to subscribe to Hulu you can choose between a standalone Hulu monthly plan, or you can choose the Hulu with Live TV package or the Disney Plus Bundle, depending on your needs.
Get the What to Watch Newsletter
The latest updates, reviews and unmissable series to watch and more!
Editorial Content Producer
Sarabeth joined the Watch to Watch team in May 2022. An avid TV and movie fan, her perennial favorites are The Walking Dead, American Horror Story, true crime documentaries on Netflix and anything from Passionflix. You've Got Mail, Ocean's Eleven and Signs are movies that she can watch all day long.
When she's not working, Sarabeth hosts the My Nights Are Booked Podcast (opens in new tab) and blog (opens in new tab) dedicated to books and interviews with authors and actors. She also published her first novel, Once Upon an Interview (opens in new tab), in 2022.