Velma: next episode, plots, trailer and everything we know about the Scooby-Doo spinoff
Find out how Velma and the rest of Mystery Inc. got their start.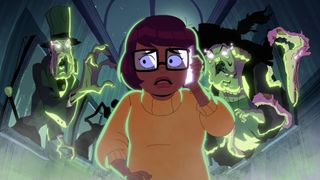 (Image credit: Courtesy of HBO Max)
Velma, Mindy Kaling's take on the legendary Scooby-Doo character Velma Dinkley, is a prequel to the Scooby-Doo franchise, looking at how Velma, Shaggy, Daphne and Fred formed Mystery Inc., and began their amateur detective agency.
Its similarities to the adored children's cartoon pretty much end there, though. Not only does Velma seemingly not feature the beloved pooch Scooby-Doo, it's also aimed at an adult audience.
Want to know what else we can expect from the HBO Max original series? Then take a look below to discover everything we know about Velma.
When is the next Velma episode?
Two more episodes of Velma have been made available on HBO Max as of January 26, meaning there are now six episodes for fans to enjoy.
Velma trailer
HBO Max has indeed released a trailer for Velma and it is rather superb and quite edgy. Sadly, there is no Shaggy and Scooby-Doo in it. Check it out for yourself.
Velma episodes
Here are the synopses for the Velma episodes released so far:
Velma episode 1, "Velma"
"After teenage outcast Velma Dinkley is accused of killing a popular classmate, she has just 24 hours to find the real murderer. There's only one problem: Velma has sworn off solving mysteries — forever."
Velma episode 2, "The Candy Man"
"While Velma goes to new lengths to solve the mystery of her mother's disappearance — including teaming up with her former BFF turned nemesis, Daphne — Norville faces an enemy of his own... stoners."
Velma episode 3, "Velma Kai"
"When Principal Rogers enrolls all the female students in self-defense class, Velma and Daphne must work out their complicated relationship on the mat. Meanwhil,e Norville vows to get answers from Fred... by any means necessary."
Velma episode 4, "Velma Makes a List"
"With Crystal Cove High's hottest girls under attack, Velma questions her feminist values, while Fred analyzes his own views on women. After seeking Daphne's help, Norville finds himself embroiled in a new mystery."
Velma episode 5, "Marching Band Sleepover"
"After Crystal Cove instates a city-wide curfew, Velma has no choice but to spend the night with band geeks... and Fred. Later, Daphne makes a discovery of her own."
Velma episode 6, "The Sins of the Fathers and Some of the Mothers"
"Velma vows to resolve her daddy issues. Norville rebels against his father's beta lifestyle. Fred fights against his family's anti-feminist ways. Daphne learns a series of shocking truths about her parents, and her past."
Velma cast
As one of the most pre-eminent comedians, writers and producers of her generation, Kaling has unsurprisingly amassed an esteemed ensemble for Velma.
As we've previously mentioned, she voices Velma Dinkley, a teenage wannabe detective, who has a crush on her class-mate Fred Jones, voiced by Glenn Howertown (It's Always Sunny In Philadelphia). Unfortunately, the 16-year-old Jones is also a murder suspect.
Sam Richardson (Veep, The Afterparty) voices Norville Rogers, who in the original Scooby-Doo cartoons goes on to become Shaggy. He has his own crush, this time on Velma.
The leading quartet is rounded out by Constance Wu (Fresh Off The Boat, Crazy Rich Asians), who portrays Daphne Blake. Now the most popular girl in school, Daphne and Velma used to be best friends. Daphne has her own complicated feelings for her former confidant.
Velma's recurring cast is just as impressive as its main-stars. Stand-up comedian Russell Peters and Sarayu Blue (Blockers, Never Have I Ever) play Velma's parents, while Jane Lynch (Glee) and Wanda Sykes (Curb Your Enthusiasm) are Daphne's mothers.
Frank Welker, who voiced Fred Jones in the original Scooby-Doo franchise, and Cherry Jones (The Handmaid's Tale, Succession) are Fred's father and mother, while Shaggy's parents are voiced by Nicole Byer (Nailed It!) and Gary Cole (Veep, The Good Wife).
Velma also features the vocal talents of Melissa Fumero (Brooklyn Nine-Nine), legendary parody singer songwriter "Weird Al" Yankovic, Fortune Feimster (The Mindy Project), Yvonne Orji (Insecure), Ming-Na Wen (Mulan), Shay Mitchell (Pretty Little Liars), Debby Ryan (Life Of The Party), basketball star Karl-Anthony Towns, Ken Leung (Rush Hour) and Stephen Root (Barry), who plays the incompetent Sheriff Cogburn.
Velma plot
Velma focuses on Velma Dinkley, who in Scooby-Doo is widely regarded as the unsung hero and under-appreciated brains behind the crime-solving group of friends known as Mystery Incorporated.
The series starts before its official formation and showcases how Velma, Fred, Daphne and Shaggy decided to become amateur sleuths while still in high school. According to HBO Max, they come together after a serial killer starts to murder every popular kid in town.
As well as depicting Velma's effort to uncover this murderer, Kaling previously teased on Instagram (opens in new tab) that the series explores "the pitfalls of high school [and Velma's] budding sexuality."
How to watch Velma
Velma airs exclusively on HBO Max. You can watch the streaming service on a variety of devices, but you must be an HBO Max subscriber.
Get the latest updates, reviews and unmissable series to watch and more!
Born and raised in England but now based in Philadelphia, Gregory Wakeman has written for the BBC, New York Times, The Guardian, GQ, and Yahoo Movies UK, all while defiantly trying to keep his accent.
Thank you for signing up to Whattowatch. You will receive a verification email shortly.
There was a problem. Please refresh the page and try again.