Freddie Jones on why he quit as Emmerdale's Sandy: 'I was driving three hours there and three hours back, and doing three or four sentences'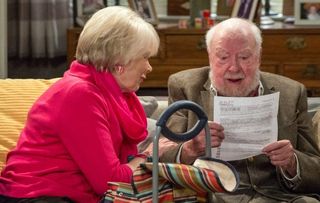 The 90 year old star bows out of the soap next week
Renowned character actor Freddie Jones has opened up about his reasons for quitting Emmerdale.
The 90 year old star, who plays the irrepressible Sandy Thomas - father of late Vicar, Ashley Thomas – will be seen leaving the fictional village next week. Emmerdale bosses are keeping exact details of the character's departure under wraps, but have revealed that Sandy strikes up a friendship with village visitor Maisie, played by Wendy Craig, who lives in Australia.
Asked about his reasons for leaving, Freddie – who has starred in the soap on and off since 2005 – said: "There are two factors that come into play. One was the fictional death of my son, Ashley, which was the denouement, and the great height of my existence in the show. With his death and with my character's age, I couldn't see where else it would go.
"Also, I realised I was travelling three hours there and three hours back, with overnight stays and then doing three or four sentences. I realised it was helping nobody. The company, with absolute generosity, offered me another year's contract. I thought: 'How can I possibly?' Nothing to do with me as an actor, but as the character. So I turned down the contract, and that is the way it is."
But Freddie – father of actor Toby Jones - insisted that he has definitely not retired.
"Actors don't retire; they die!" he adds. "I believe the story goes that Gielgud, at the age of 96, rang Maggie Smith and said in a deep depression, 'They've forgotten me - they don't know who I am anymore.' He apparently ended the sentence wonderfully, by saying 'I'm seriously thinking about changing my agent.'
"He then died so he did change his agent in some sense. But wonderful!"
Get the latest updates, reviews and unmissable series to watch and more!
Thank you for signing up to Whattowatch. You will receive a verification email shortly.
There was a problem. Please refresh the page and try again.