Aaron and Robert are caught kissing!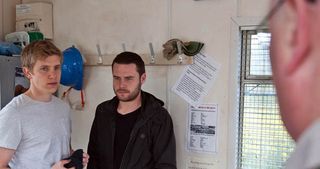 When Paddy warns Aaron to keep away from Robert, his plan backfires drastically. Defiant, Aaron does the opposite and takes up Robert's offer of a drink! Later, with the chemistry between them at fever pitch, they give in to their desire. But when Paddy turns up and finds them mid-kiss he's furious. Taking action, he writes a letter to Chrissie, cryptically warning her to rein in her cheating husband.
Terrified, but determined, Brenda arrives at the hospital for her brain scan. Meanwhile, Chas has called Bob to tell him about his wife's appointment. Brenda's relieved when she's told her tumour has not returned – she's in the clear. As Bob gives her a tight hug he's wracked with guilt for duping his wife on such an epic scale.
Back at the flooded-out shop another plumbing bill arrives causing shameless Carly to ask Bob for yet more money.
Rakesh can't understand why Kirin hasn't got over Vanessa and moved on. Will he listen when Priya explains it's all down to a little thing called love?
Get the latest updates, reviews and unmissable series to watch and more!
Thank you for signing up to Whattowatch. You will receive a verification email shortly.
There was a problem. Please refresh the page and try again.