Casualty spoilers: Robyn betrays Duffy!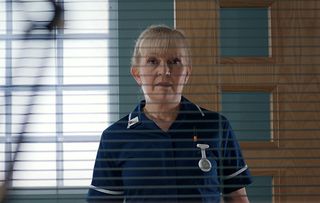 (Image credit: BBC)
Angry Robyn reveals Duffy's affair to their ED colleagues. Duffy hides her dementia secret. Alicia lays down the law for Ethan
Shocked Robyn reveals Duffy's affair
A friend in need is a friend indeed, and senior nurse Duffy Fairhead could really do with someone in her corner in Casualty this week! Sadly, for Duffy (Cathy Shipton) the breakdown of her marriage to Charlie Fairhead becomes the talk of the emergency department now nurse Robyn Miller knows Charlie (Derek Thompson) and Duffy have split up.
Unaware of the cause of their rift, well meaning Robyn sets about finding out what happened hoping to help Charlie and Duffy reunite. Feeling harassed by Robyn's relentless questioning, stressed Duffy snaps and reveals she had a one-night stand with old flame Bill Crowthers and her marriage is over! Angry and upset Robyn (Amanda Henderson) tells fellow nurse Louise Tyler that Duffy cheated on Charlie, and soon the news spreads like wildfire…
Meanwhile, as well as coping with her private life being public gossip, Duffy secretly worries about the possibility she has dementia. Before her hospital shift Duffy undergoes a CT scan. The results are promising, however, her doctor Isabel Roberts wants to run memory tests as soon as possible. Anxious to know the truth behind her recent ill health, Duffy agrees to come in for the crucial tests at the end of the day. Will they reveal her worst fears?
Alicia sees Ethan in a critical new light
This week Alicia Munroe decides to undertake a risky procedure in order to save the life of a seriously ill newborn baby – even though Ethan Hardy cautions her against it!
Thankfully the procedure is a success, but unfortunately Alicia begins to see her doctor boyfriend in an unflattering new light. Alicia doesn't appreciate Ethan pulling rank on her when lives are at stake and tells him so.
Is their delicately reformed relationship about to be derailed?
Iain and Ruby back on track?
Paramedics Iain Dean and Ruby Spark are working together once again. But Iain wants to address the kissing elephant in the room and apologise for making a move on rookie Ruby when they went for drinks before Christmas. Ruby is happy to move on from the incident, but remains troubled about Iain's erratic behaviour.
Will Iain open up about how he still blames himself for Sam and Mia's deaths?
Also this week
Acting clinical lead Elle Gardner tries a different approach with the ED staff. Her management style is notably different to absent Connie Beauchamp's, but is it better?
Junior nurses Jade Lovall and Marty Kirkby continue their war at work, driving the more experienced nurses to distraction. Charlie forces the feuding pair to work together, while Duffy experiments with a hands-off approach, until Marty makes a basic mistake…
Meanwhile, Robyn has another reason for avoiding Marty. He's in her bad books after babysitting her daughter Charlotte. Has Robyn twigged that Marty's pretending Charlotte is his child in order to get closer to single-dad Joshua?
And Duffy has an ulterior motive for her tough-love approach with Jade and Marty… Will anyone realise?
Get the latest updates, reviews and unmissable series to watch and more!
Thank you for signing up to Whattowatch. You will receive a verification email shortly.
There was a problem. Please refresh the page and try again.