Charity and Ross kiss! Are they on again?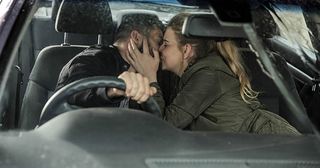 Charity kisses Ross, while Kerry is running scared because she could be carrying Ross's baby and Jimmy is terrified Nicola will discover his secret
Charity and Ross stole a dog for a reward but it ran off – and they had to run, too, from a Rottweiler. Then Ross discovered Charity was planning to do another runner, away from Emmerdale, and take their son Moses with her. He wasn't going to let Charity do that and she was surprised by the depth of his feelings for his son. Back in the village they kissed, but before they could go further the cops arrived to deliver a very drunk Cain. Suddenly, Charity was going nowhere.
The way Kerry sees it, she can't keep the baby and keep Dan. She told Joanie she's having an abortion. 'It was a mistake that there's an undo button for,' she said. Joanie told her she could lie to Dan, he would never know. But Kerry pointed out she would know, always. But at the abortion clinic, Kerry was told she had to wait. They have to be able to confirm her pregnancy with a scan and they can't do that for another week.
Nicola discovered that the toddler group Jimmy was going to was really a bereavement group and he was mourning his late wife, 'Ricola'. After giving their dirty linen a thorough washing in public, Nicola revealed Jimmy's lie to the group.
Get the What to Watch Newsletter
The latest updates, reviews and unmissable series to watch and more!