Coronation Street spoilers: Carla Connor wakes up in hospital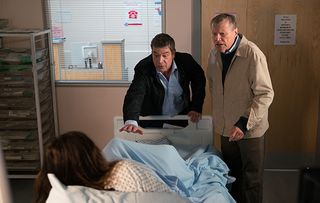 Carla Connor is stunned to see Johnny and Roy by her bedside
Carla Connor wakes to find Johnny and Roy at her hospital bedside and freaks out. The doctor tells Roy that she seems keen to see her partner Peter. Roy tells Ken but he refuses to call Peter saying that nothing should get in the way of his recovery. Will Roy accept Ken's advice or will he get in touch with Peter himself?
Tim introduces Steve to a young lad called Jay, a computer whizz who can design them an App that'll knock GoLucky off the top spot - but it'll cost £20k. Steve reveals that he's got £20k but it was supposed to be for the deposit on a new house.
When Kirk confirms he's meeting the talent scout for lunch, Beth's suspicious of her motives. When an excited Kirk tells her that the talent scout wants to sign him up for a 6 weeks tour, Beth studies the business card and realises they're looking for comedy acts.
Alina calls at No.11 and after explaining that the electricity is out at the salon, suggests they spend the day together. It's clear Seb's chuffed. In the barber's, Natalie nags David to give her some proper training and reveals it's her birthday but he sends her on an early lunch.
First episode of Coronation Street tonight.
Get the latest updates, reviews and unmissable series to watch and more!
Thank you for signing up to Whattowatch. You will receive a verification email shortly.
There was a problem. Please refresh the page and try again.